If you're longing to impact the next generation of girls with biblically-steeped timeless truths, look no further.
This Tween & Teen Girl Bible Study Resource Bundle is full of study topic guides, mini-bible studies, and worksheets perfect for using with tween and teen girls.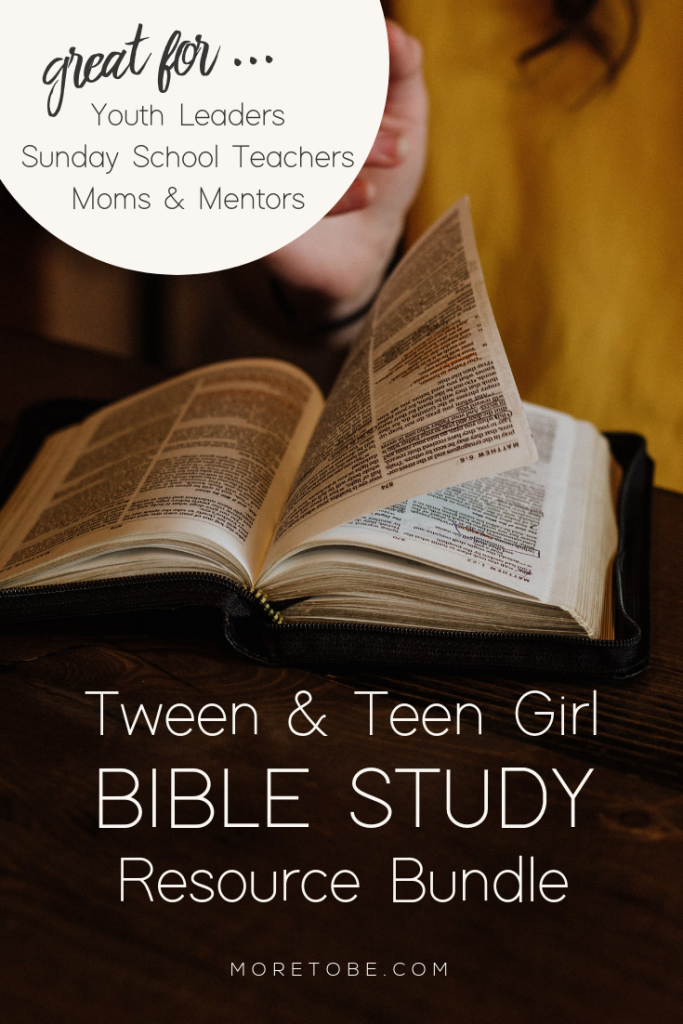 These resources are the overflow of ETC gatherings designed to share biblical truth with girls from around the world and all walks of faith along with diverse upbringing. The resources can be used individually or combined to create a study series. You get to customize the content to meet your needs! You also have permission to print and reproduce each of the downloads as many times as you need to share with your girls.
Customizable Curriculum
This bundle includes over a dozen resources:
1. Shine Bright Study with Resources

God longs for us to allow Him to reclaim, redeem, and repurpose our life, so that we may shine more bright, more beautiful, more like Jesus every day . . . because that's the way He created us to live! It's a journey of learning and growing in our faith, which we hope you will embark upon it today using the Shine Bright Devotional Study Guide and companion Shine Bright Inventory.

2. Already Enough Study with Resource
Drawing upon the truths found in John 15, this short study uncovers not only how we're chosen by God to bear fruit and the blessing that will be in our lives, but also looks at the obstacles we'll face followers of Christ. This would be great to partner with The Truth About Friendship and Move Out from Overlooked.
3. Move Out from Overlooked
Overlooked isn't where we're meant to live. God intended better than that for each one of us. It isn't necessarily a complicated process, but it does require a bit of determination to follow these 10 simple steps for moving out from overlooked.
4. Truth About Friendship
Having a friend is truly a gift and being a friend is surely a privilege, but few people will ever become your best friend and only a dozen may make it into your inner circle. So how do you really make and keep good friends, and sometimes, even let go of unhealthy friendships? This mini-study answers those questions, including how to use the Friendship Pyramid to discern as a way to consider what healthy friendships really look like.
5. Live Brave
What if bravery is really the absence of fear that comes when you step forward in faith? Would that be the type of bravery you're willing to live out? It is time to step out in faith with confidence found in Christ. It is time to no longer live in fear. It is time to live brave.
6. Live Worthy of the Call
In this mini-study, you will sprint through Ephesians to discover your high calling and worth in Christ. It is truth that God establishes your life with purpose, equips you with everything you need, and engages you purposefully in the world around you.
7. One Degree Guide & Handouts
The study is all about encouraging and challenging the next generation to consider how to live in a way that keeps the big picture and long-distance view in mind as they choose to build their life according to biblical truth! It is packed full of illustration points, questions, and activity ideas!
8. Lead from Behind
What do you think defines a good leader? Have you considered the lasting impact of a leader who does the job beyond expectations compared to another who falls short? This resource is great for cultivating a biblical mindset about leadership by looking at the example Christ has set for us.
9. Give Me Love
This study dives deep into discovering God's love and how He expresses it to us, as well as looking at why our understanding of love is so misinformed. When you start to look it at through God's eyes in light of relevant biblical truth, love seems to make a whole lot more sense. You'll also get 30 Verses About Love, which can be used to structure a devotional time or deeper study into the topic of biblical love. Great resources to combine with this one would be the Dating & Relationships Bundle.
10. Get Real with God
What does it look like to grow in your relationship with God? It starts with making it a priority to connect with Him. This quick-to-read resource outlines a simple plan for cultivation a devotional life through bible study reading. It would be great to combine with Prayer Power to unpack how to make that time with God even more meaningful.
11. Prayer Power
Do you struggle in your prayer life? This resource is packed full of practical ideas for establishing a prayer life and engaging in an open dialogue with God. It would be great to use alongside Get Real with God and When God Says No.
12. When God Says No
How do you get your heart and mind around the truth that God is sovereign — meaning the one in charge of your life — even when you don't like what's happening? This mini-study helps unpack the ways we can respond in faith when God appears to say "no" to our hopes and plans.
13. Ten Relevant Truths
What Truth do you live by? Have you unknowingly bought into what the common cultural thinking says is true? How does it line up against Scripture? It is time to live life according to truth, not myth or opinion.  Download this quick study and invite the Holy Spirit to reshape your thinking according to the Word.
14. Ten Steps to Forgiveness
Does forgiveness mean completely forgetting about a time when you've been hurt by someone? Is the act of forgiveness something you have to do? Can you still move forward in a relationship even without forgiving the one who hurt you? Forgiveness is complicated. This mini-study tackles why God calls us to walk in forgiveness and how to go about doing so with those He's allowed us to be in relationship with.
15. Accountability Partnerships
This worksheet is great for setting the framework for effective accountability relationships with a group, either peer-to-peer or in a discipleship or mentoring relationship.
16. Summer Survival
Instead of letting each day pass by without any purpose, why not inspire your girls to set goals for personal, emotional, and spiritual growth, so that when summer vacation ends, they are left changed for the better. Hmm, maybe that something you can do for yourself, too?
To get this bundle, add it to the cart and go through the check-out process. You will receive an email with links to each resource to download.
---