When the twins were still in diapers, I had no choice but to shop the local bulk food store for the best price on diapers. It really wasn't too much of a hardship, because that store was the only one with a cart that could fit two toddlers side-by-side and, plus, they offered snacks to keep me from becoming to0 cranky before lunchtime! However, this particular store did something that would drive me bonkers – they would rearrange time and time again for no apparent reason.   I'd head to the coffee aisle and find trash bags instead.  How infuriating! For the life of me, I couldn't understand why they needed to re-organize their store so often, and would have been a happier customer if they left well enough alone.
Why am I telling you this? 
Well, because we're about to re-arrange and re-focus More to Be!
And the last thing I want to do is frustrate you!
So let me explain what's about to happen and invite you to join in this process with us…
We're spiffing up our digs with a site redesign, but rather than shutting things down, we're going to do some makeovers right before your eyes. You can pretend like Trading Spaces has gone virtual! It's time for a face lift with a lighter and brighter feel. Check out the preview of what's to come…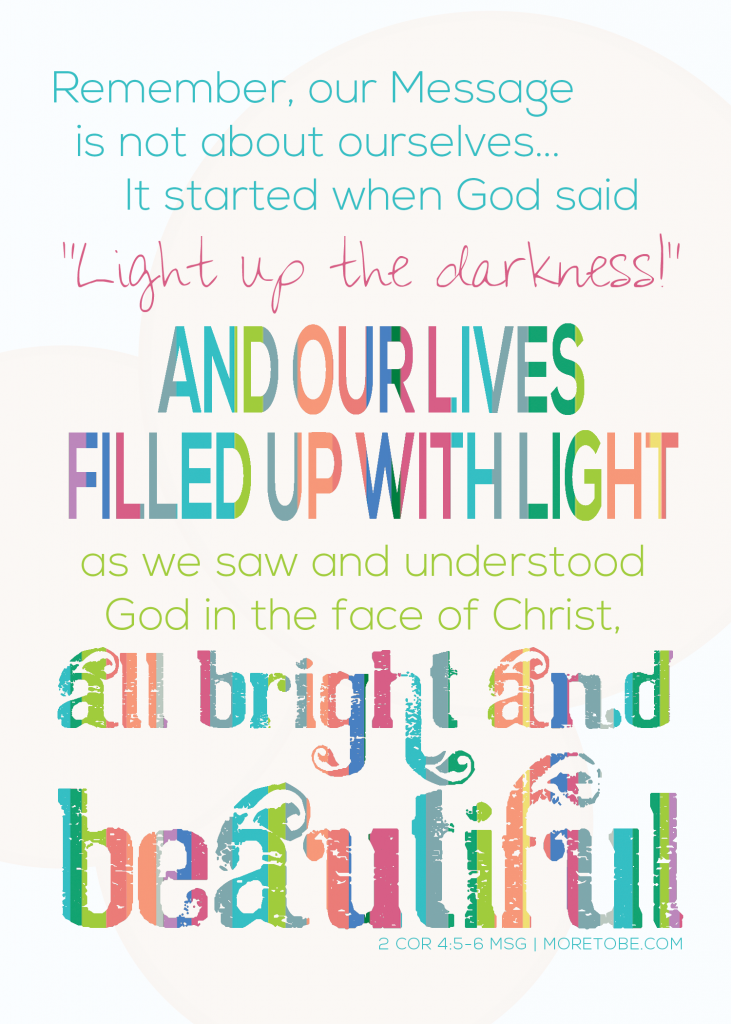 We're switching up our site navigation, so you'll find the menu bar up there at the top of the page and the side bar will have some new labels. Our hope is that what we're doing will make this site more useable to our tribe and friendlier to newbies.  But do us a favor — if you get lost and want something to go back to where it was, give us a heads up. We'd love to hear from you at more @ moretobe dot com.
We're shifting our focus on who we can serve best of all…MOMS of tweens and teens.  What does that mean exactly? Well, since we began, our heart has always been to reach the next generation, and in particular, girls. We adore tween and teenage girls, and even have a soft spot for coming along 20-somethings. That hasn't changed a bit.
We've come to believe, however, that the best way to serve the next generation is by equipping their moms and encouraging their mentors.
The fact is our girls are too busy to read everything we share. They need the resources and inspired words hand-picked for them and delivered right under the pillows or forwarded to their in-boxes. That's why we believe if we focus the blog and our social media hangouts on equipping moms, we can help guide the right words and resources through their hands and into their girl's hearts. And while we've got a thing for girls, we're passionate about seeing boys become godly men, so some of our resources will help moms of tween and teen boys, too.
So girls, where does that leave you?  Well, we will still have our Real Answers to Real Questions for you to read and our FREE  Topical Downloads to use, so feel free to stay subscribed to our email list for weekly updates. Or, you can join the Just Girls mailing list, which means you'll get a special email every few months with links to articles and resources that will equip you in your faith. You can also stay connected with us through Twitter and Instagram and use #M2Binrl to keep up with us!
And what about the mentoring training? We're as committed as ever about equipping moms to mentor and are happy to help out any others wanting to be trained, too. We've simplified our Mentoring Training down to a FREE 6-week course, so head over here to sign up if you've not yet gone through it. And we hope to bring some mom-focused studies and topic-based webinars your way in the next six months, too!
How about the GET Connected groups?  Our Moms of Teens group is still growing and we'll be kicking off a book study in January, so get into that group now and you won't miss out on the opportunity!  Click here to request to join.  We will be closing up our teen & 20s group, however, and hope to serve them best through our Just for Girls emails.
We hope you're excited!
Our team has been planning and praying for the last few months, seeking God for direction and purpose for our ministry and how to best serve you. We pray you'll feel His love overflow onto you, through our words and the ways we seek to serve you. Please let us know if there is anything we can do for you!