Is time to get insight into why you end up in the same crazy cycle of conflict and failure in your family or at work, with your ministry team or friends?
Would you like to understand your communication style and how it impacts your relationships?
Maybe you feel like there is some sort of mental block keeping you from taking risks in your relationships or even career aspirations.
Through partnering with horses in our exclusive equine-assisted retreat experience, you'll discover how to find a wholehearted connection with yourself, others, and God.
It is a process of reconciliation, restoration, and redemption as you become who you were intended to be . . . as a woman, in relationship with others, and as a child of God.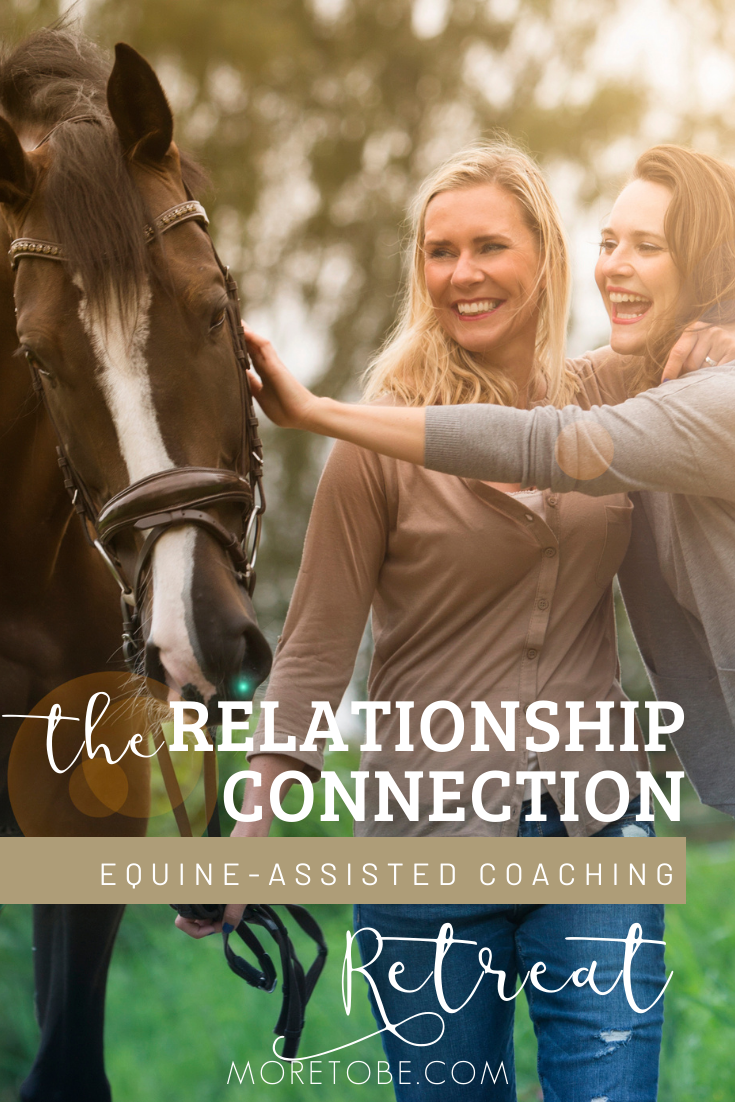 One-Day Retreat 
Saturday Morning Session
Understanding Connection
Obstacles to Connection
Uncovering the Connection Roots
Saturday Afternoon Session
Exploring Connection Style
Identifying Connection Strengths
Releasing Connection Weaknesses
Post-Retreat
Option to book an on-site equine-assisted coaching session or a virtual coaching session for an additional fee
Details
The experience will take place at Honey Brook Stables, in Honey Brook, Pennsylvania.
It is recommended to arrive the evening before and depart the day after.
Light refreshments will be available throughout the day
Recommend lodging will be provided.
Make the most of the time in Honey Brook by extending your visit to include visiting an Amish farm, antique stores, coffee shops, or a day in taking in the history of Philadephia.
The Retreat fee begins at $695 per person and does not include travel, hotel, or meals.
Book Your Retreat Experience
Option 1: Private Group Retreat
Would you like to have a private retreat experience with those you've invited personally?
Yes, you can book a private retreat with a group of friends, family members, business, ministry, or leadership team.
An ideal size is 8 women. You must have at least 4 women to book and payment in full is expected to hold your date. To begin the conversation, please complete this form.
Option 2: Public Group Retreat
Would you like to join in our next public group retreat experience?
We'd certainly love to have you! To be notified when the next retreat is scheduled, please complete this form.
Frequently Asked Questions
Do you need horse experience?
Not at all! Actually, the less you know about horses, the more remarkable your experience can be because you'll show up teachable and without any preconceived notions about what to do. I will teach you what you need to know about horses as well as brain development, which is key to understanding how to heal and develop emotionally healthy relationships.
Is riding including in this experience?
No, this is all on the ground work.
Do you have to be a Christian or of a particular denomination to attend this retreat?
Not at all. Since this is a retreat, I will be teaching during the morning and afternoon sessions from a biblical perspective and using the Scriptures to explain my perspective on the importance of connection. But I will also be teaching from a psychological and neurological perspective, explaining the way the brain and body works and the implications on relationships and emotional well-being.
What do I have to pack for a retreat like this?
Great question! You will want comfortable, closed-toe shoes, long pants, and layers that you don't mind getting dirty. Bring a "cleaned-up" outfit for dinner on Saturday night.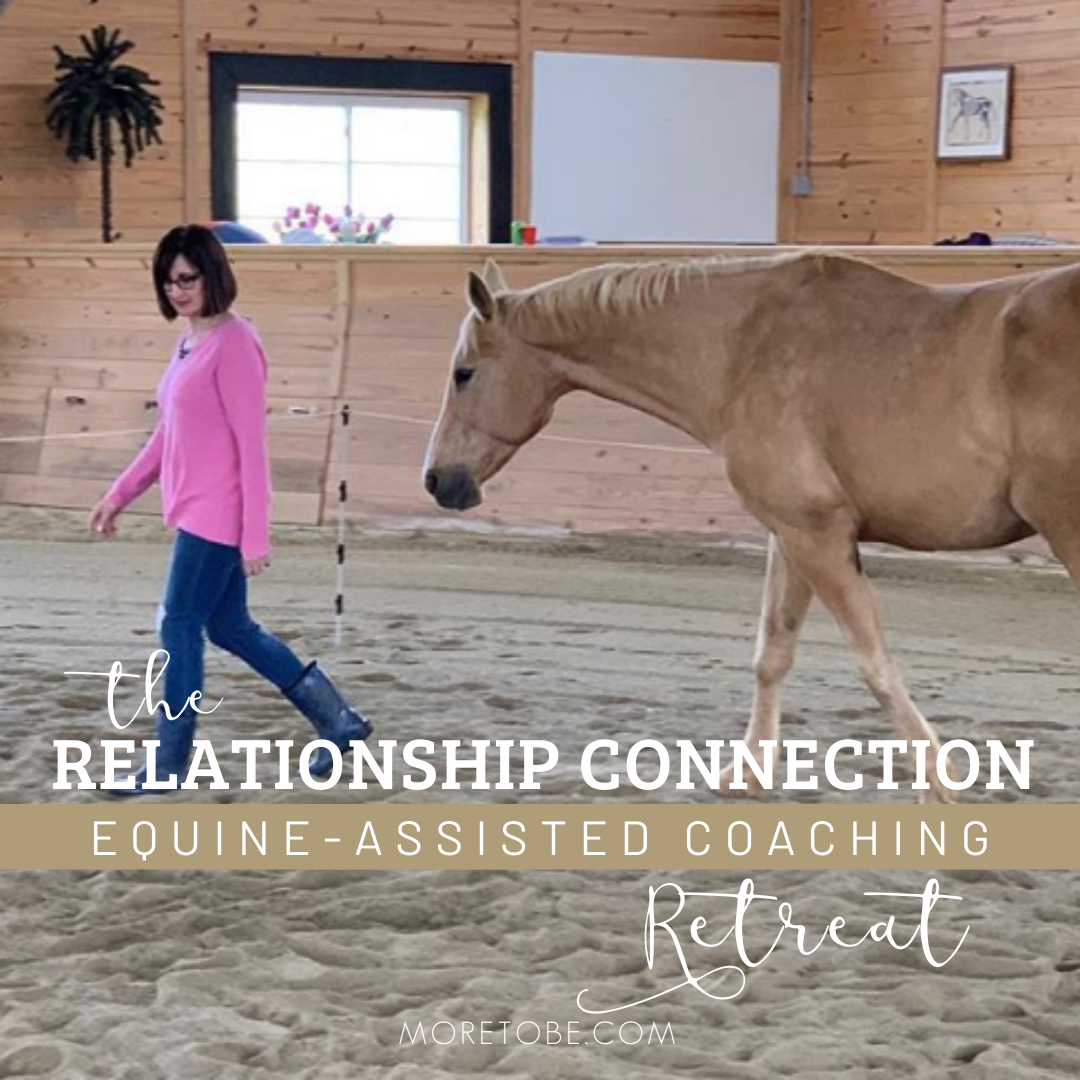 Let me tell you a little story about my personal experience . . .
. . . that occurred at my Natural Lifemanship training.
I ended up in a round pen with a horse that refused to move. She went on ignoring me. Not a look. Not a glance. Just totally ignoring me. Even though I had horse experience, I realized my old techniques were not going to work because I didn't have a halter or lead rope to just go up to her make her connect with me.
She had to choose our relationship connection, and that changed everything.
Through using the Natural Lifemanship approach you begin to build the connection through applying pressure to her rear by clapping or giving energy to your voice. I know it sounds crazy, but wait until you experience it. So I was trying my best to no avail, only getting more and more discouraged and angry. My pride was hurting. My fear of my own anger erupting was mounting. I turned to my training instructor for help and he coached me with simple but profound questions (which is what I'll do for you).
"What do you want to do?"
I told wanted to just quit and run away. 
He said, "Is that good for you and for this horse?"
I said, "No, I need to work through this?"
He said, "Work through what?"
With tears pouring down myself, I confessed my struggle with anger and how I've worked the last 19 years to not raise my voice, to not get loud and in my kids face, but when they push me like this horse is doing by ignoring me, I lose my cool.
At that moment I saw with clarity four profound truths:
I feel like I often don't have a voice unless I yell, and that's a by-product of my childhood wounds that I thought were all healed up.
When I don't feel heard, I get angry.
I don't know how to raise my energy level without being angry.
When I feel like I might fail, I quit.
As I poured out my heart, right there in the middle of training, I could see how this equine-assisted coaching was about much more than working with a horse.
It was about working on me and my relationships.
So I took a deep breath, relaxed my body, and put into practice the Natural Lifemanship approach with a horse that didn't want to give me the time of day. It was worth it, as the connection began to build and she began to pay attention to me and follow me by choice, without any pressure to do so.
And from that experience, as well as all the ones that have taken place since that time, I've approached my human relationships from a brand new perspective. It has made such a difference in my marriage, motherhood, and work relationships.
I'd love for you to discover this for yourself, too.
Whether you join me in The Relationship Connection retreat experience or get started right away by booking an Equine-Assisted Discovery Coaching Session, I'm here for you to discover how to truly embrace a healthier way to connect with yourself, others, and most of all God. Yes, change is possible. I'm living proof!