We count it privilege to know that hundreds of women have experienced our training since it launched in 2012, and have gone forth with a passionate to impact the world through biblical mentoring.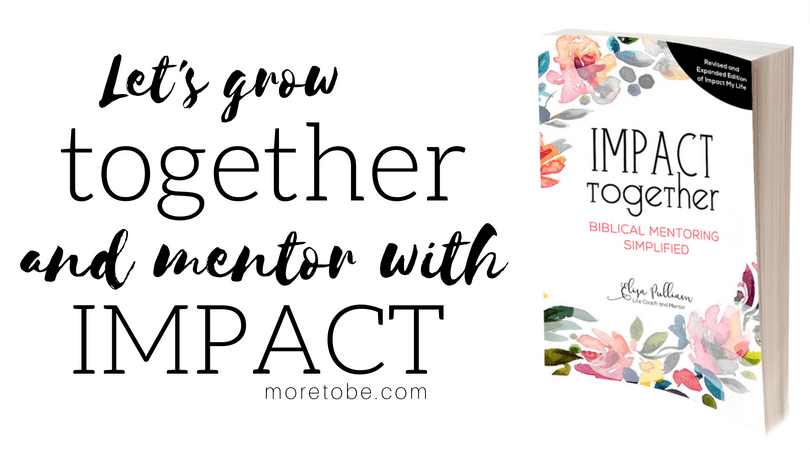 Established within the framework of biblical principles and built off the concepts presented in Impact Together: Biblical Mentoring Simplified, our online mentoring course is designed to equip you as a mentor anyone in any situation.
The foundation of our program is built upon inspiring you to grow deep in your own faith, so that you may overflow His truth and love into the lives of those around you, especially the next generation.
You'll quickly discover that our belief about biblical mentoring is rooted in two key principles:
God designed for us to be interconnected together, one generation to another, as we see in Titus 2 and 1 Corinthians 12.
To mentor biblically, you have to follow Christ distinctly.
Our mentoring training program will challenge you to grow in your faith and encourage you to draw nearer to Christ while helping you discover your potential as a mentor.
Regardless of your age, stage, or career path, we are here to equip you to mentor biblically, as we have done with so many who have gone before you . . . moms and grandmas, youth leader and volunteers, pastor's wives and Sunday school teachers, Bible study leaders and coordinators, those serving on the missions field around the world, volunteers a crisis pregnancy center and homeless shelters, prison ministry workers and those involved in leading or supporting a women's ministry.
You pick the role, and we're pretty sure we've been blessed to minister to their soul while equip them to serve in the place God has called them mentor!
Yes, our mentoring training and coaching opportunities will simplify the mentoring process and offer you great inspiration for stepping out in faith and impacting the world around you.

ONLINE Impact Mentoring Training Course
for individuals and groups 
The online, self-paced Impact Mentoring Training Course, taught by life coach and life-long mentor, Elisa Pulliam, will equip you to step into a biblically-based mentoring relationships while also igniting your faith and inspiring to follow Christ distinctly. The 6-week, video-based course built upon Impact Together: Biblical Mentoring Simplified is complete with downloadable worksheets, bonus resources, and a Leader's Guide for going through the course with a group.  To learn more, click here.
---

One-on-One Mentoring Training Plus Life Coaching
The one-on-one Mentor Training plus Life Coaching package is designed to personalize the concepts in Impact Together in light of the area of mentoring you'd like to focus upon. The package includes:
five 45-minute coaching sessions
free PDF version of Impact Together 
Highlands Ability Assessment (mentioned in the book)
clarifying your role as a mentor
understanding how to best care for your mind, body, and soul that you have more of Him to give
focusing on the opportunities before you and how to be effective in your mentoring ministry
ongoing accountability and encouragement
prayerfully seeking of God's purposes for your life
The fee for this package is $425 per person. To learn how this training and coaching experience work for you, please send Elisa a message using this contact form.
---
 Group Mentoring Training Plus Life Coaching for Teams
Group Mentor Training plus Life Coaching package is designed to equip ministry and business teams seeking to grow their skill as a mentors and bring unity to their culture. Building upon the concepts in Impact Together, this coaching and training experience is customizable and can be done online or in person.
To discuss the cost of this type of training and it could work for you and your team, please complete this contact form to set up a free consultation call.
---
Are you looking for a mentor?