Whether you are searching for a mentor or desire to become one, Impact Together will enable you to discover your place in the body of Christ while uncovering the simple steps of cultivating life-changing and Christ-centered mentoring relationships.

Built upon the principles first published in Impact My Life: Biblical Mentoring Simplified, this revised and expanded edition includes relevant information about the unique generational differences and valuable insights on how to come together in the family of God. We need each other because we are better together.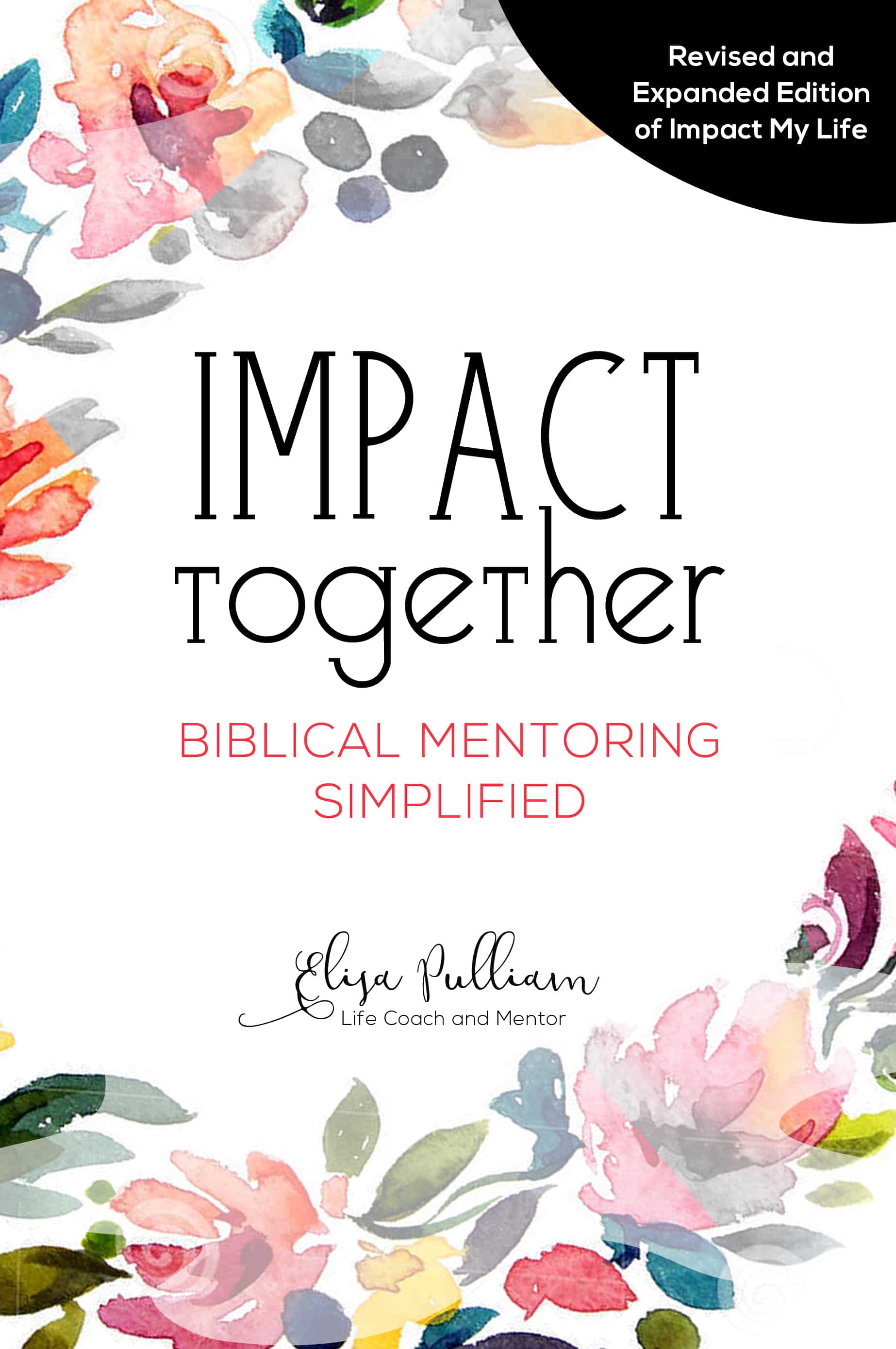 The blend of biblical principles, relevant illustrations, life coaching techniques, and creative ideas for simplifying mentoring will equip you to embrace impactful, healthy, and God-honoring relationships with the women He has already placed in your life.

---
Get Your Copy
Impact Together: Biblical Mentoring Simplified is available in paperback and Kindle format through Amazon. 
If you would like the PDF version, use the button below.
Click the "add to cart" button to get PDF downloadable file(s) for your personal use. 
$12.99 Add to cart
---
Take a Peek Inside
You'll see some similarities with the first edition, Impact My Life: Biblical Mentoring Simplified, but in this book, you get twice the content, deeper understanding of the generations, and a more simplified yet thorough step-by-step guideline for putting mentoring into action.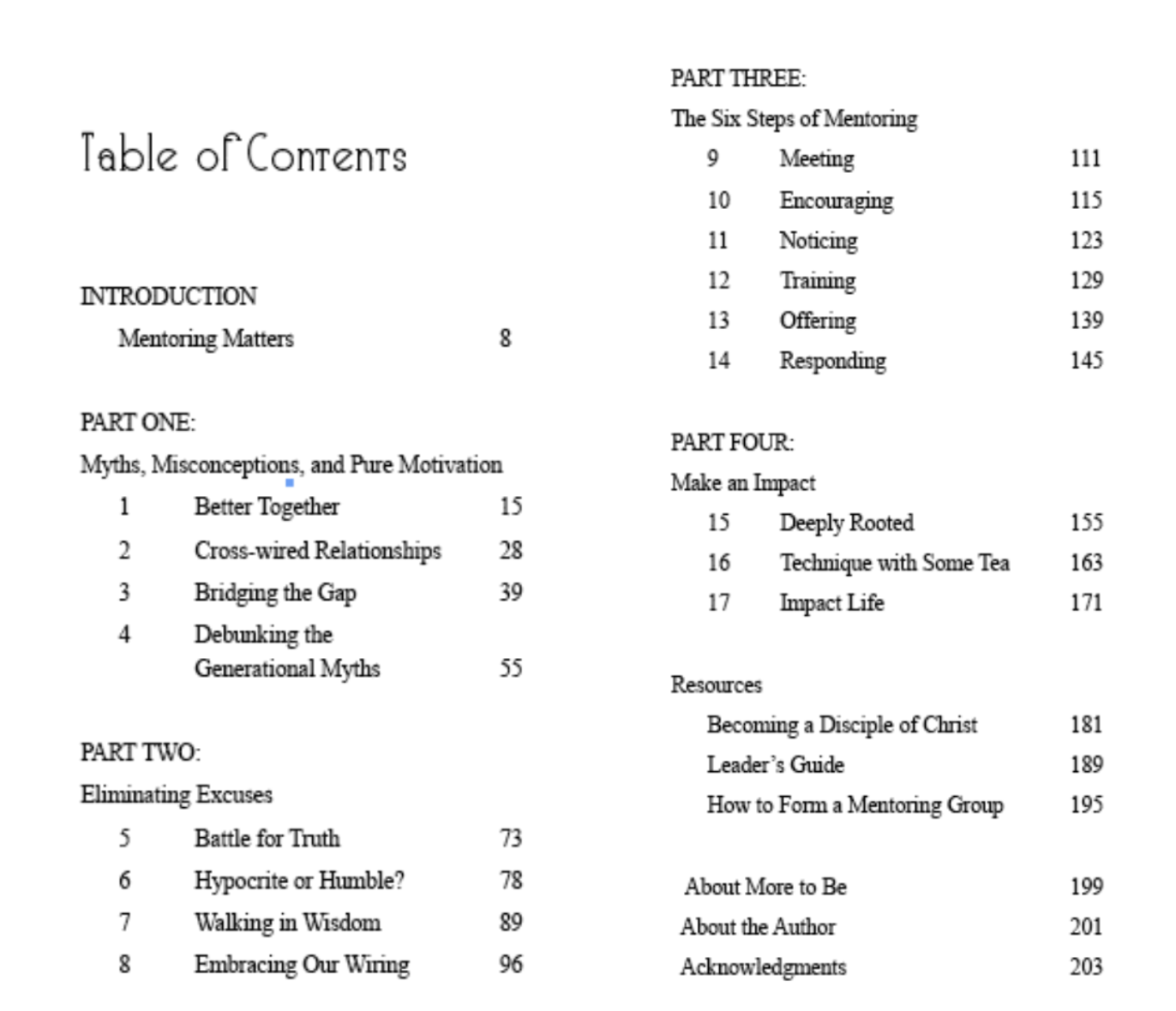 With the questions at the end of each chapter and the Impact Challenges, you won't need to pick up the original study guide. It's all included! In addition, there's a leader's guide provided within this book, enable you to study Impact Together with a group of any size and in any season.
---
Praise for Impact Together
In Impact Together, Elisa frees us from the fear of doing it wrong. This book simplifies authentic biblical mentoring as a lifestyle. Her words, extremely practical, refreshing, and rooted in Scripture, ready us to engage with others on a heart level and equip us to do life together. If your heart's cry is to cultivate life-giving relationships, you'll want this book!
Jo Ann Fore ~  Community Manager at Women Leading Women and Author of When A Woman Finds Her Voice: Overcoming Life's Hurts u0026amp; Using Your Story to Make a Difference
If you were to ask me who in this online space knows how to mentor the next generation well and can practically teach you to do the same, Elisa is the very first person to come to mind. Her heart is for generations to come together to impact and encourage one another. You'll find practical ways to do both within the pages of this book.
Kaitlyn Bouchillon, contributor at More to Be and author of Even If Not: Living, Loving, and Learning in the in Between
This book has brought me to a clearer and deeper understanding of the importance and necessity of mentoring for today. Within its pages are a wealth of knowledge and understanding in applying biblical principles that will guide and bless both mentor and mentee. Elisa has made simple the process of Christ-centered mentor relationships by unraveling key components for success that has the power to transform lives. This book will make you ready and excited to become the Titus 2:3-5 woman.  An absolute must-read for mentor and mentee, I promise you will not be disappointed.
Gail Cooper, Co-Founder of Take Two Ministries
In Impact Together: Biblical Mentoring Simplified, Elisa Pulliam combines biblical teaching, practical insight, and valuable resources to create the most complete book on mentoring I've read. With wisdom and grace, Elisa dispels myths, promotes healthy motivation and offers encouragement to women of all ages that they can impact others. Whether you desire to become a mentor or you need one, this is the book for you!
Rebecca Shirey, Writer. Speaker. Mentor at RebeccaShirey.com
In a world starving for authentic relationships, Lisa speaks straight to our hearts through Impact Together, assuring us that the potential for those genuine relationships are all around us, if only we know what to look for. Lisa takes the mystery out of mentoring, introducing us to simple truths that bind together younger and older women in life-giving relationships that provide the encouragement, guidance, and support we all long for. Whether you're advanced in years or just starting out, you'll find a welcomed guide to mentorship in this book.
Asherita Ciuciu, Author and Blogger at onethingalone.com.
---
Get Trained to Be a Mentor
Enroll in the Impact Mentor Training Course  to gain skills and insights through video teachings, worksheets, and additional content not included in the book, including a special teaching on "Parakaleo" relationships described in the later part of Titus 2. This teaching alone will transform your understanding of Biblical mentoring.