Have you ever witnessed something spectacular that blows your mind? Maybe it's a "Humans Are Awesome" video on YouTube or something that happens in real life, and you just sit there shaking your head and saying, "How is that possible? People just amaze me!"
Of course, as Christians, we believe God is the one who makes us so amazing and gives us the talents and abilities we possess, which brings me to one of my favorite stories in the Bible. Matthew records the story in the first book of the gospels, chapter 14, verses 22-32. Jesus has just finished feeding the 5,000, and recognizing that the people want to make Him king, He tells His disciples to get in the boat and cross to the other side of the Sea of Galilee. He then disperses the crowd and heads to the hills to pray.
I can only imagine that He needs time alone with His Father to center Himself and make sure He stays true to the mission God has sent Him on instead of getting caught up in the fame and glory the crowds want to shower upon Him.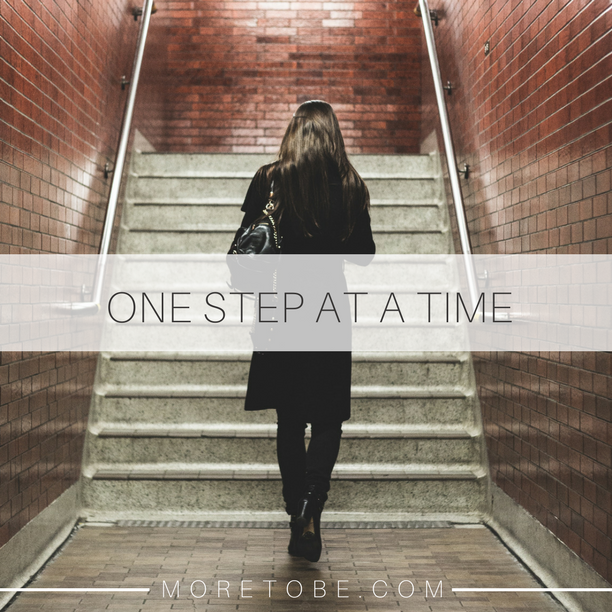 After praying most of the night, Jesus heads out across the lake at three o'clock in the morning to meet up with the disciples and help them cope with the storm they find themselves in. When the disciples see Jesus' figure out on the water, they cry out in fear, "It's a ghost!"
Their reaction is very typical for people who are exhausted and scared.
We don't think straight when we're overwhelmed, and they were no exception.
Instead of relying on God, they gave in to their fears and Satan clouded their thinking.
Jesus immediately calls out to them and reminds them they have nothing to be afraid of because He is in their midst.
"Don't be afraid. Take courage. I am here" (verse 27). He says the same thing to us today.
We have nothing to fear when we are in His presence. And yet, how often do we see "ghosts" instead of the "Holy Ghost"?
How often do we allow our thoughts to derail us and trap us in fear with imaginary "ghosts" instead of resting on the promises of a God who says He will never leave us or forsake us (Deut. 31:6)?
He doesn't promise a life free of hardship, but He promises to walk through the water and fire with us (Isa. 43:1-3)!
After hearing Jesus speak, Peter boldly says, "Lord, if it's really you, tell me to come to you, walking on the water" (verse 28).
Jesus says two words, "Yes, come."
He doesn't offer Peter a bunch of advice or praise for being brave enough to come to Him. Instead, Jesus simply says, "Come."
The storm is still raging around them. The waves are crashing against the boat, and the wind is whipping Peter's clothes around. But Peter is determined. He takes strength from Jesus' words, and he steps over the edge of the boat and begins walking toward Jesus. But then Peter makes the fatal mistake of checking out his surroundings. At that moment he is overwhelmed by the uncertainty of the storm and his faith wavers.
Taking his eyes off Jesus, Peter begins to sink.
I've never walked on water before, and it's safe to say you haven't either, but we've all been in a situation similar to Peter. We feel convicted to start a ministry or reach out to someone in need or reconcile with a family member or friend, so we take a step in faith. We get out of the boat. We rely on God's strength, and we begin moving toward our goal. But somewhere between that first step and the finish line, we get scared.
We begin to think about all the things that could go wrong.
We worry about how we're going to fit ministry into our busy schedule. We calculate the risk of getting involved in some else's mess. We shy away from the vulnerability of reconciliation. And in that moment, we begin to sink.
We let go of God's plan, and we allow ourselves to be swept away in doubt.
As soon as Peter called on Jesus to save him, Jesus reaches down and pulls him out of the water. Standing face to face, Jesus says, "You have so little faith. Why did you doubt me?" (verse 31). Those words must have stung. I'm sure Peter kicked himself for his lack of faith as he walked back across the water with Jesus.
When they reached the boat and stepped inside, the storm stopped. Recognizing Jesus' authority and majesty, they worshiped Him. We have no idea if Jesus and Peter talked about this experience further, but I think it's safe to say that Jesus didn't keep beating him over the head for doubting. He asked Peter once, and then I think He dropped it.
[clickToTweet tweet="Jesus is so gracious and understanding. Yes, He pushes us and He will ask the tough questions, but He isn't in the business of beating us up when we mess up." quote="Jesus is so gracious and understanding. Yes, He pushes us and He will ask the tough questions, but He isn't in the business of beating us up when we mess up."]
Instead, He offers us a hand and encourages us to walk beside Him and keep learning His ways.
What doubts have you allowed to sidetrack you from God's plans? Are you willing to ask God for help and get back on your feet and pursue His path?
Stop kicking yourself for falling and accept God's grace and forgiveness and move forward.
What is Jesus calling you to do? What is He asking you to step out in faith and try? It's easy to get overwhelmed by fear and doubt, but keep your eyes on Him and take one step at a time. And when you fall, remember that He is right there to pick you up and encourage you to keep going.