Do you desire to overcome your trials with peace of mind and a grateful heart?
If so, that is exactly how God wants us to thrive at ALL times.
Let the message about Christ, in all its richness, fill your lives. Teach and counsel each other with all the wisdom he gives. Sing psalms and hymns and spiritual songs to God with thankful hearts. And whatever you do or say, do it as a representative of the Lord Jesus, giving thanks through him to God the Father.
Colossians 3:16‭-‬17 NLT
The verses preceding Colossians 3:16-17 urges us to pursue peace in everything.
God knew that life was not going to be smooth sailing at all times and therefore gave us steps to overcome anything life throws at us in peace through the wisdom God offers us in His Word.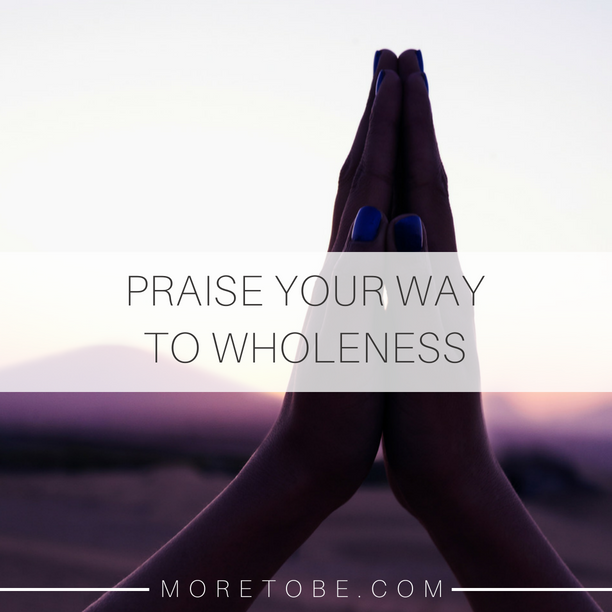 Step one lies in the message we so often hear: to basically drown in God's Word so that it overtakes our lives. A place where we do not only know and read our Bibles but where it becomes active and alive in us as the message about Christ in all its richness fill our lives.
We ought to take our instructions, directions, everything else we need from the Word, which is the message about Jesus. It must not only fill us but have a mighty force and influence in our lives.
The soul prospers when the Word of God dwells in us richly.
The next step is to teach and counsel one another.
We were not created to live in isolation. We sharpen ourselves by quickening and inspiring others.
The way we do this is "in psalms and hymns." When we sing psalms we bring edification to our souls. And as we do it all in the name of Jesus, His glory will at the end shine over all of it as He lifts our souls and bring an outcome in the midst of our trials.
The final instruction as we do everything in Jesus's name is to give thanks.
We must give thanks in all things.
When we get up and when we lie down when we understand our circumstances and when we don't, when it goes well and when it feels like the night will never end, in our praises and our prayers, we must submit with a thankful heart.
When pondering these verses and looking at my own life, I am humbled by the revelation that my thankful heart has scored low lately. I've realized all over again that only Jesus that can fill us to a point where our pain become our strength, our tears of confusion turn into tears of understanding, and our questions become the inspiration to pursue not our own ideas and understanding.
When you experience a loss, you search for something to fill the void inside you, but every worldly supply you turn to offers only a temporary solution.
When the message of Jesus and His grace that is always enough takes root in your heart, even when it does not feel like it, your loss turns into fertile soil where Jesus can plant new seeds of His wisdom as He pours His revelations over your heart while searching for understanding.
The power of praise gets a deeper meaning when you continue to praise God during the trials in life.
He does not require us to praise Him for the hard times as He is not the author thereof, but He wants us to praise Him in the hard times as He provides the way out (1 Thessalonians 5:18).
As I was facing the loss of a baby, I could feel God drawing me closer to praise Him, to sing songs for Him, to praise Him in prayer, and to declare His goodness even when that was the last thing I felt like doing. I reluctantly obeyed for a lack of a better answer. After a very short time, I could feel my spirit lifted in joy.
My own disappointment and heartache over the loss of my baby could not stop my praises to God from bringing healing to my soul.
In those moments of surrendering myself in praises to Him my sorrows were gone and joy filled the deepest parts of my being.
Turning my sadness into a song of thankfulness towards God began to bring new understanding to the season I was in. Even though I was facing circumstances beyond my control, it was not my trials that were going to make me stronger but how I was going to respond to them.
As a child of God and His representative on earth, I have the power within me to break any lasting damage on my soul and life and become a testimony of God's glory.
We might not understand why certain things happen the way they do, but if we choose to face them in the presence of our Father, thanking Him for our breakthroughs, we possess the power to show His glory in the midst of our darkness.
Every day, every thought and every action are opportunities of praise and gratitude which completely disable the power of destruction the enemy may have intended for our lives.
When we take our eyes off our own ideas and perceptions of how things should be, the truth that God's grace is enough for us will become real as we realize that even though we might be facing our trials from a mindset that there is a battle to fight, the victory is already ours.
When you find yourself in the compromising position of a trial, close your eyes and ears to what you can see and hear and declare that God's grace is enough for you.
He is good, and to His glory there is no end.
Thank Him for the unconditional love He has for you and for the heart-wrenching death Jesus suffered so you can have the victory in your trials today.
And wait with a thankful heart as He faithfully works His good works in and through you.