Back in the days when we worked at the boarding school, my husband was asked to coach the hurdlers on the girl's varsity track team. Sounds reasonable, right? Well, my husband never ran track nor ever hurdled. I'm pretty sure, however, that he never let on to his athletes that they probably knew more than he did.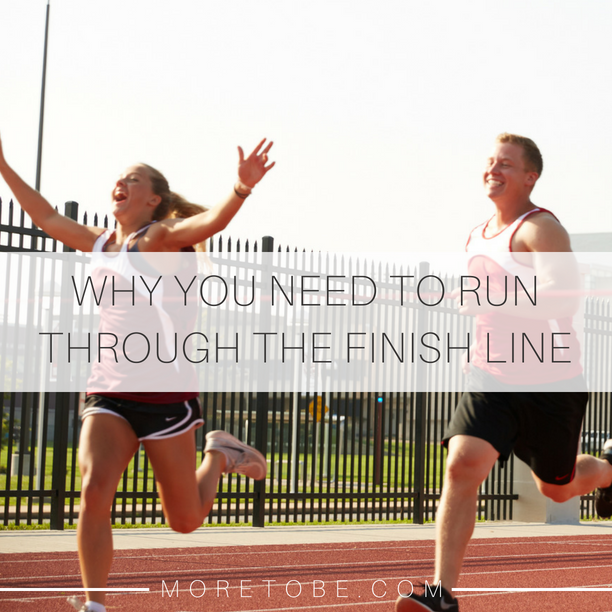 He devoted himself to learning everything he needs to know to coach those girls well, studying the sport of hurdling from books, because Youtube.com wasn't yet a thing. He gleaned practice drills and techniques for cultivating good form, but it was the simplest principle of them all that mattered the most:
Run through the finish line!
Do not let up after that last hurdle!
Isn't that our tendency? To give up when we see the finish line coming!
Instead we need to train ourselves to see the end of the race, way beyond the line, so that we press through with all we've got!
We have to run through the aches and pains.
We have to run in spite of our insecurities.
We have to run even in the face of fierce competition.
Sounds a whole lot like our journey to eternity rather than a track meet, don't you think?
Therefore, since we are surrounded by such a great cloud of witnesses, let us throw off everything that hinders and the sin that so easily entangles. And let us run with perseverance the race marked out for us,  fixing our eyes on Jesus, the pioneer and perfecter of faith.
Hebrews 12:1-2
Do you see the secret to running our spiritual life with the mindset and effort of a winning athlete?
It's all about where you set your gaze . . . beyond the finish line where you see Jesus face-to-face. 
That gaze takes practice, friends. You just don't wake up one day as a great track start or pillar of the faith. The girls on my husband's team showed up prepared to run, with their track shoes on and bodies cared for as much as could be expected for a high school student.  They were willing to learn, listening to critique on their technique so they could improve. They were motivated to win, believing that was an endeavor worth pursuing.
Those track hurdlers faced their race exactly like how we should embrace our journey of faith.
What would it look like to show up each day with a heart and mind and body willing to be used for His purposes?
What do you need to shift in your thinking to believe that studying the His Word is fully worth your time?
What will it take for you to be motivated to run this race with perseverance for the glory of God?