Is fear your battleground, like it is for me?
Fear has chased me down my whole life. Of course, you'd never know because it goes by other names . . . caution, prudence, being careful, choosing safety. While those are good things, they mask the real issue.
Being afraid. Plain and simple.
I'm afraid of getting hurt. Afraid of making a mistake. Afraid of being falsely accused. Afraid of failing. And probably, the worst of all . . . being afraid that God might get mad at me . . . or abandon me. Even after all these years (21 to count) of walking with the Lord, I still struggle from time to time with believing that God loves me "as is. I simply forget the long, beautiful road I've walked with Him and witnessed His love, faithfulness, and provisions. I totally lose perspective, as I lock in on the unknown.

Oh, yes, my fear gives way . . . in the unknown. 
When I don't know the answer.
When I can't predict the next step.
When I feel clueless about the solution.
In the UNKNOWN . . . I become afraid.
Where does your fear manifest itself? When does it throttle you down? How does it lock you up?
Most importantly, what do you do with the crippling fear that keeps you from living life to the fullest?
The thief comes only to steal and kill and destroy; I have come that they may have life, and have it to the full.
John 10:10 NIV
Oh yes, my friend. The enemy is all about stealing the full life God promises — a full life that is not marred by fear and worry and anxiousness. Yet, the minute we give way to fear, we're giving the devil a foothold on our thoughts and the opportunity to reroute our lives. That's a battle I'm choosing to fight long and hard. Want to join me in it?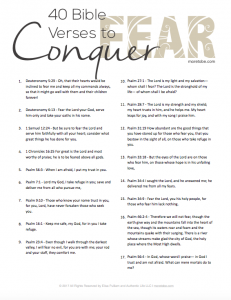 God reminds us in Scripture to cling to His Truth and to use the Word as our sword in the battle against the enemy (Hebrews 4:12).
I pray these 40 verses will be kept close to your heart and equip you in your battle against fear.