Can you remember when Google maps wasn't a thing and instead a printed map was necessary to find our way to a new destination?
While I'm super grateful for the aid of Google, there was this one time when a traditional map would have served me well. I was on my way to pick up my daughter from a friend's house for the first time, and the app on my phone stopped working. I was literally lost because I hadn't dropped her off at the house, but rather at another location, so I couldn't rely on my memory. I also never wrote down the directions, because who does that anymore. And I did not have the mom's phone number on hand. I know, #MomFail.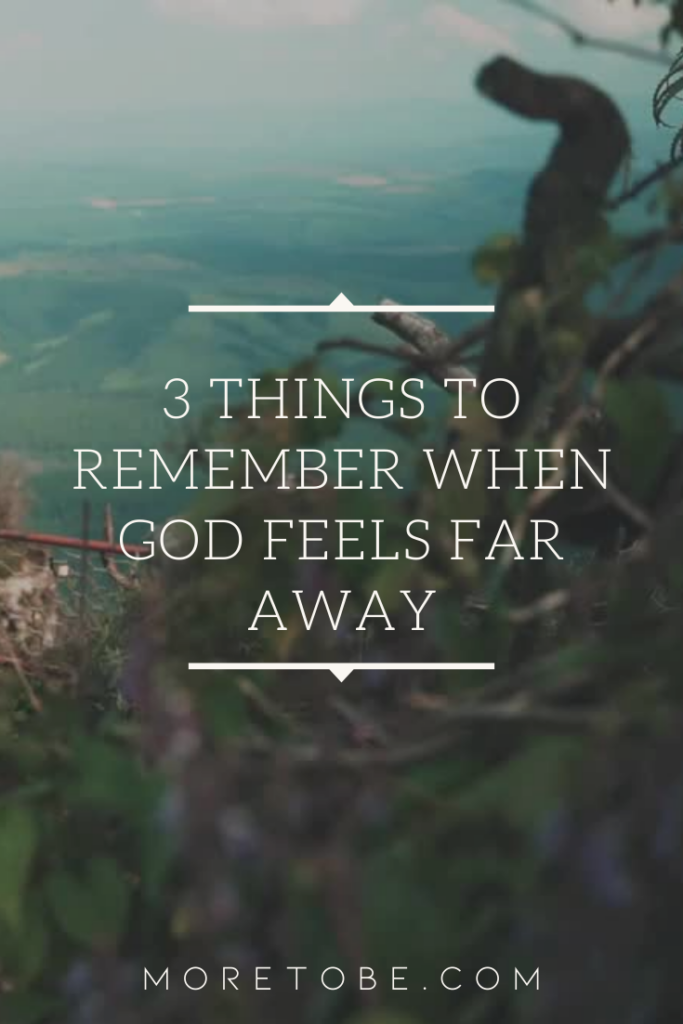 I begged God for a solution and He prompted me to call home for help. Thankfully, my teenage daughter was able to find the address and plugged it into Google maps on the computer. She gave turn-by-turn directions, including pointing out the landmarks until I safely arrived to at the destination. That experience reminded me how important it is to prepare for the motherhood journey ahead and also offered a fresh perspective on what it means to rely on God, turn by turn.
Maybe you feel totally lost right now like something is broken in your connection with God. No matter how hard you try to hear from Him, the signal appears to be dead. 
God is with you.
He is eager to speak to you and give you turn-by-turn directions, pointing out the landmarks and showing you exactly what to do next. 
Yet, from this vantage point, I know that there are times in which God feels so far away. If that is where you find yourself, I urge you to consider these three principles and promises from Scripture as you consider where your connection with God may be muzzled a bit:
1. Connection to God is established not by what you do but by what you believe. Through faith in Jesus Christ, you are given the Holy Spirit to be your guide and advocate. God will speak to you through the Spirit alive in you!
But when the Father sends the Advocate as my representative—that is, the Holy Spirit—he will teach you everything and will remind you of everything I have told you. John 14:26 NL
2. Time in the Word and meeting with God on a regular basis is a non-negotiable. If you want to know His voice, character, and promises, you need to immerse yourself in the Scriptures. Then you will recognize when the Holy Spirit is indeed speaking to you. Keep it simple with a chapter a day, beginning with the Psalms or the Gospel of John.
For the word of God is alive and active. Sharper than any double-edged sword, it penetrates even to dividing soul and spirit, joints and marrow; it judges the thoughts and attitudes of the heart. Hebrews 4:12 NIV
3. Relationships with other Christian women are critical in this season of motherhood. Just like my daughter was able to give me turn-by-turn directions in a crisis, we need other godly women — both peers and mentors — who can model for us what this looks like and also jump in to speak God's wisdom to us during the challenging times on this journey of motherhood.  
Similarly, teach the older women to live in a way that honors God. They must not slander others or be heavy drinkers. Instead, they should teach others what is good. These older women must train the younger women to love their husbands and their children, to live wisely and be pure, to work in their homes, to do good, and to be submissive to their husbands. Then they will not bring shame on the word of God. Titus 2:3-5 NLT
As hard as it may be to make time for each of these three essentials, they are as life-giving as oxygen. Honestly, in this season of life of launching children into adulthood while also working and going to grad school, I feel like my in-the-flesh relationships are waning most of all. And yet, as I also witness my mother-in-law's life come to the end, I'm especially aware of how all three of these principles have enabled her to navigate through the ups and downs of life, clinging to Jesus the whole way.
God has provided us with a GPS system that does not fail as Google Maps did for me. He is willing and able to provide us with everything we need as moms to navigate this journey ahead. The question is are we willing to make the most of what He has given us?
Join in the conversation at The Better Mom.