I think it is safe to say that one of the most sought after pieces of advice from teenage girls, and even twenty-somethings, is about dating! Most girls want to know how to have fun dating without regret.  Some want to know if God approves of dating. Others want to know how far is too far, sexually speaking.  And just about every girl want to know how to find the right guy! These concerns are valid and worth an answer!
Our Topics & Truth guide on Dating is packed with answers to the most common dating questions.  It looks at God's design for relationships, how to know if you're interested in the right kind of guy, what to do and not do in a dating relationship, thoughts on considering the concept of courting, and how to break up well.
It is our hope and prayer that every tween, teen, and twenty-something gal (and guy) would pour through this guide and consider applying the wisdom from Scriptures a long practical ideas for making wise relationship choices.  That's why it is totally free!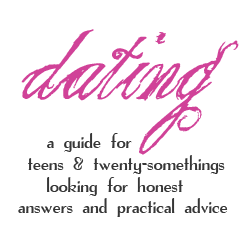 Click Here to Download our Free Dating Resource!
We also know that today's Christian women, especially moms, find themselves at a loss when it comes to talking with the next generation about dating and relationships.  That's why we've created a Dig Deep Guide for moms and mentors especially about dating and relationships.  This guide enables a woman to engage in a one-on-one conversation or lead a one, two, or even four part study on the topic.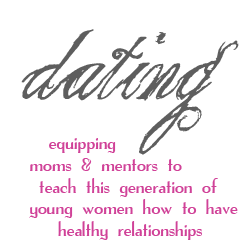 Get the guide for Moms, Mentors, and Youth Leaders!
Make the most of our resources and share them with this generation of young women God has place in your life!
Elisa is a trained
biblical life coach
, mentor, and speaker passionate about equipping women to experience authentic life change for the sake impacting the next generation. She is the founder of
More to Be
and author of
Impact My Life: Biblical Mentoring Simplified
. You can also find Elisa writing for The Better Mom, MODsquad, FaithLife Women, and the Internet Cafe Devotions. Elisa considers her first calling as wife to Stephen and mother to her house-full of children. Her favorite days begin on the porch with the Lord and end on the beach with her family and friends. Connect with Elisa at
www.elisapulliam.com
.