Beauty is one of the most challenging, heart-wrenching topics facing teens through twenty-something gals and even today's women.  No matter the age, females struggle to understand where they fit on the beauty scale and how to accurately see their reflection in the mirror.  Christian teens as well as they moms and mentors wrestle with finding healthy boundaries on beautifying the outside, while they know it is their inner beauty that matters most.
In our collection of Redefining Beauty resources, we look at what the world has to say about beauty, what God's perspective instructs according to Scripture, and how to live it out in practical and inspiring ways.  The goal is not to just provided more information on beauty, but to see a movement of teens, twenty-somethings, and today's women redefine beauty for themselves, others, and the next generation, by how they live in the skin their in.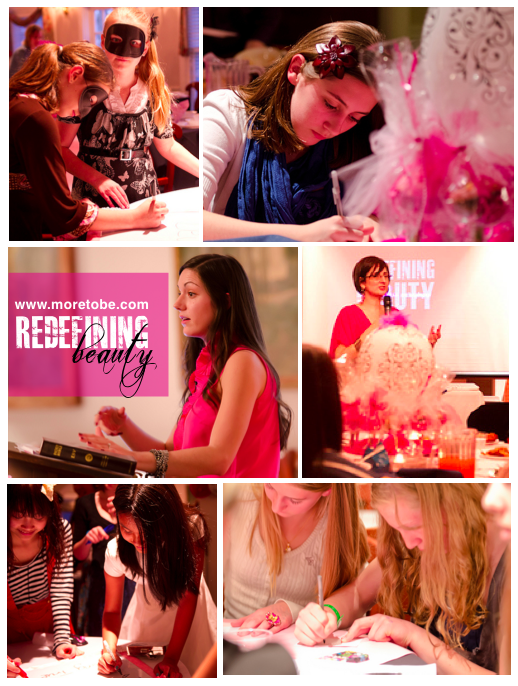 We encourage you to make the most of these resources and to prayerfully consider bringing the Redefining Beauty movement into your heart, home, and community as well as into the lives of the next generation of women. Our founder, Lisa Pulliam, is willing to prayerfully consider partnering with you in bringing the message forth.  For more information on her availability, please contact her at lisa (at) moretobe (.) com.
Beauty Movement

Join the movement to redefine beauty today by clicking on the image above to learn more and find out how to impact the next generation!

Beauty Mentor Guide

This Redefining Beauty Mentor Guide is packed full of practical ideas, application questions, and resources ideal for leading an ETC. group or small group through the study of beauty. It is equally perfect for individual study or to use in a mentoring relationship.

Beauty Handout

This handout is packed full of relevant truths and new perspectives, encouraging a movement of redefining beauty!

Beauty Checklist

Print out this checklist and hang it next to your mirror as a daily reminder to redefine beauty.

Beauty Event Planner

Bring the Redefining Beauty movement to life with the girls in your world. Plan an event designed exactly for them, as small or as grand as you like. This free download covers every aspect for planning an evening full of blessings.

Beauty Invitation

Download this invitation and personalize for your Redefining Beauty event.