{Would you like to read Part 1?  If so, go here.}
When I was a teenager, one of the things I wanted most was Melissa Joan Hart's hair in "Sabrina the Teenage Witch." {Yep, looked just like that picture!}
Her hair was cut into this cute bob and curved her face perfectly, with no stray hairs out of place.  I wanted my hair to be like hers more than anything, but no matter how I cut or styled it; I could never get it to look like Melissa's.  My hair is very thick, so you can imagine trying to cut it into a short bob.  It was not a good look for me!  But my mother with all her grace (and patience!) obliged every time I asked for the "Sabrina" look.  I kept trying to look like someone else and when I didn't achieve that, I felt like I didn't measure up.
Do you compare yourself to celebrities? 
Do you wish you had their hair?  Body?  Celebrity boyfriend?  Wardrobe?
(Okay, I'll admit that last one still gets me sometimes. They do after all have fabulous clothes.)
But God is quick to warn us against comparison and idolizing celebrities.  In the Ten Commandments, God tells us that we shall have no other gods before him, and this more than includes those star-studded people we see on the covers of magazines.
It's hard though, isn't it?  We are slammed all the time with messages like "Drop 10 Pounds in 7 Days like Kim Kardashian" or "See how Jennifer Aniston Keeps Fit and Trim."  Trying to measure up to these headlines can be exhausting.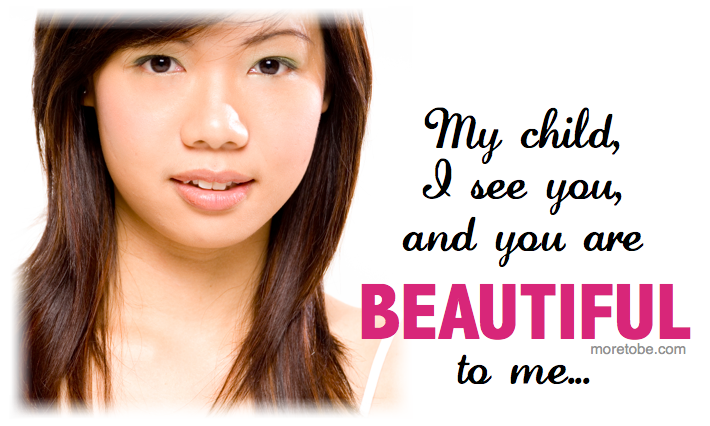 But what if we stopped comparing ourselves to not only celebrities but to others as well? 
What would happen if we chose to stop focusing on the magazine cover and focus on how God truly sees us?
Think about that for a minute and consider this video by the Dove Real Beauty Campaign.
When I first watched this video, it brought me to tears.  At first it was because I so strongly identified with each of the women that told their stories, but after I watched it a second time I realized that this is exactly how God wants us to see ourselves.  This is how He sees us.
We spend so much time comparing ourselves to others,
wishing we had their bodies or physical features
and the whole time God is saying to us,
My child, I see you, and you are beautiful to Me.
He is like the artist in the video, sculpting and molding us to exactly how we should be-made in His image.  When we talk negatively about ourselves and constantly compare ourselves to others, it's like we're telling Him that His drawing is not good enough.    
Are you like the women in the video?
If we did the same exercise, how would you describe yourself?
How would others describe you?
Today I want to challenge all of us to see ourselves how God sees us.
Where we see imperfections, He sees beauty and opportunity.  It's okay that you think Taylor Swift has nice eyes or hair, but be cautious that it doesn't border into comparison or idolizing.  When you go home today, take out a sticky note or piece of paper write on it all the things you think God would say about you and stick it on your mirror.  Use it as a reminder that imperfections=perfection in Christ Jesus.
Dear Heavenly Father, I don't want to compare myself to others but it's so hard when Satan attacks with jealously and desire.  Lord, I know that I am wonderfully made because I was made by you, the Creator.  Help me not to idolize celebrities for their physical looks and other fortunes, but help me to see the beauty that You have given me both inside and out.  In Jesus name, Amen.
What struck you about the exercise in the video?
How can we encourage each other to see one another's beauty?
Download the Redefining Beauty Resource to be encourage to see your God-given beauty.