I fell in love last summer.
It only makes sense to talk about it, since February is so often all about love.
It was a strange road with an even stranger story, and there were days I thought, "This isn't for me" and "This will never last." But summer came to an end and now here we are in February and I sit here writing these words, more in love than I could have imagined.
But don't run ahead of yourself because it isn't what you think.
This love isn't for a boy.
God placed a dream inside me this past summer and I fell in love with the power of story.
It can unlock things inside of us that we never knew were there. It can bring joy and healing.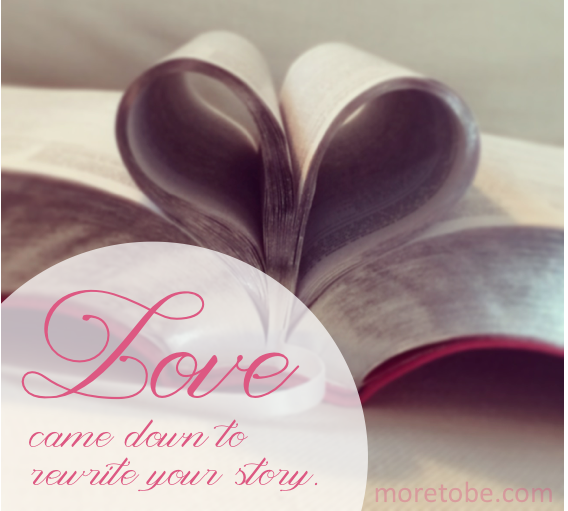 Nothing brings two people together as quickly as story.
When you share with me, I feel like I can share with you, too. It's as if we're offering each other freedom by offering our story. But I'm not naive. There are parts of my story that I wish could be erased, and I'm willing to bet there are pages in your story you'd like to rip out. I get it, I do. Entire chapters have been filled with hurt and brokenness. There have been chapters of waiting, pages of questions, and a whole lot of tear-stained lines.
On Valentine's Day, I know some will be left feeling like this isn't the chapter they thought they'd be in right now. It's not so much about the day but about what the day so often symbolizes.
I want to offer you a different perspective this year.
We can get sucked into the chocolate, teddy bears, cards and balloons, or we can choose to think about love. Love for your friend, your boyfriend, your fiancé, your husband, God, and maybe a friend – and maybe it's time to love yourself.
[Tweet "You know, Love Himself created you and your story."]
Love came into our world, walked our pages, and then died so that the ending of our story could turn out differently.
You are loved beyond any measure you could comprehend. The Great Author has chosen each word of your story and He is writing a masterpiece.
The thing is, some times it's hard to see The End when we're stuck in a chapter of heartache. Some times we can't see the importance of our story among the ordinary of our day-to-day. Some times we would rather flip back a few pages to the starred and underlined happy times or fast forward to the next chapter, hoping it will be better.
God makes no mistakes. Your story is a unique, beautiful work of art. He is writing each chapter and the Great Author never uses a pencil. He has no need to erase; He knows exactly what He's doing.
You aren't alone in your story or in your questions. He sees you. He knows exactly what page you're on and He loves you right in the middle of your beautiful, messy, crazy story.
But I have to ask you something important:
Who needs to hear your story?
Make no mistake, sharing the real isn't the easiest thing to do, but it builds bridges and connects hearts. You've been given your story for a reason. To keep it to yourself is to deny Him the glory of what He is writing!
We need your story! If it feels safer to hold back, whether out of shame or fear or a belief that you don't have a story to begin with, remember that there is power in every story. No matter who you've been, the chapter you're in, or what you've walked through, will you use February 14th as a reminder to love someone through the power of story?
Love came down to rewrite your story.
It's time we open up the book and share it with the world.
 ***
Moms, Speaking of Our Stories….
Won't you join us for (in)RL: Story?! If you've never heard of (in)RL, think of it as a free girl's weekend with chocolate and laughter and real, honest life – minus the plane tickets and checked luggage and hotel cost. It's on April 25 & 26 this year, and on Friday the 25th we'll be sharing our stories with you. 30 women have recorded their stories, in hopes that you will enter into the beautiful, the messy, and the beautifully messy. The videos will play online Friday, so grab your fuzzy socks and your coffee and settle in. You can watch the videos throughout the day. And on Saturday? It's the very best part, where women in your own community meet up to eat and get to know each other, to dive into the real and share their stories. Because friend, the world needs to hear your story.
Click play to watch the (in)RL 2014 trailer. And maybe grab some kleenex.
[youtube http://www.youtube.com/watch?v=8NBznnDLS-o?rel=0]
A few important things you may want to know: You can register for (in)RL here: www.inrl.us.  It is completely free! Just for registering, you'll be given access to all the content from (in)RL in 2012 and 2013. I know right?! So amazing. You can host a meet up (which is what I did last year, and I'll be hosting again in Birmingham this year) or simply attend, either is great! Sweet friend, it doesn't matter how much life you've lived or what you've walked through, you have a story. And we need to hear it!
You can read all about the behind-the-scenes of (in)RL this year, my head-over-heels love of story, and about a $100,000 miracle God performed right over here.