Do you ever feel like you can read the same Scriptures time and time again, and yet you can see fresh truths that never stuck out before?
That's the beauty of the Word of God! It is alive and active (Hebrews 4:12)! It is able to cut through our previous thoughts with fresh new understanding. Yes, God is about the business of changing our thinking and thereby transforming us from the inside out as we seek to align our thoughts with His Truth (Romans 12).
And so this week, as we return to Exodus 3, we get to meet another side of God once again. He is not only I AM WHO I AM, but he is also LORD, which in the original language is Yahweh or Jehovah, which means "the existing one" and is considered "the proper name of the One True God." (source)
God replied to Moses, "I AM WHO I AM. This is what you are to say to the Israelites: I AM has sent me to you." God also said to Moses, "Say this to the Israelites: The LORD, the God of your fathers, the God of Abraham, the God of Isaac, and the God of Jacob, has sent me to you. This is my name forever; this is how I am to be remembered in every generation.

Exodus 3:14-15 CSB
Through Abraham, Isaac, and Jacob, God continues to establish Himself as the One True God, reminding the Israelites again and again about who He is and what He is able to accomplish in their lives. In this particular passage, we meet a God who is ever-present and fully aware of the needs of His people.
God pays close attention to His people (Exodus 3:16).

God knows what has been done to His people (Exodus 3:16).

God promises a great rescue of His people (Exodus 3:16).

God promises to avenge His people with miracles (Exodus 3:20).

God promises release from slavery for His people (Exodus 3:21).

God promises complete redemption of His people (Exodus 3:22).

If God promises all this for the Israelites, what might He be saying to us in our current circumstances? Is He not the same God yesterday, today, and tomorrow? Does He not remain true to His character?
It would be tempting to take this passage about the Israelites and believe that these promises for their wilderness deliverance should transfer to our own wilderness wanderings. Maybe, in fact, they do and we will see God's hand move in such a way that is true to this passage in Exodus. But if we can pull back for a moment from our own circumstances that plague our earthly existence, could we not say God has already fulfilled these promises in Jesus.
Yes, God has released us from slavery and accomplished complete redemption in our lives when we place our faith in Jesus Christ as Lord.
Eternity is our freedom place.
That is our destination
This is our wilderness, our journey out of the strongholds and sufferings, into paradise forever.
Let's Pray

God, thank You for being the same yesterday, today, and tomorrow. Thank You for being faithful to your Word to the Israelites. Thank You for being faithful to Your Word to us. Forgive me, Lord, when I doubt Your character and promises. Enable me to trust You completely, especially as I wander through the wilderness of this life, eyes set on eternity with You.

In the Strong Name of Jesus, Amen.
---
Listen to the Wednesday in the Word Podcast Episode
---
Join us in the More to Be Tribe
Join us in studying God's Word with the ​Encounter God: 52-week Scripture Memory & Prayer Scripture​ resource.
Each week, we're committing to these four simple steps:
Memorizing One Name or Attribute of God
Memorizing the Key Verse
Studying the Key Verse in Context of the Chapter of Scripture
Praying According to God's Name or Attribute
As you embrace this challenge, join us in the More to Be Facebook group to share what you're learning!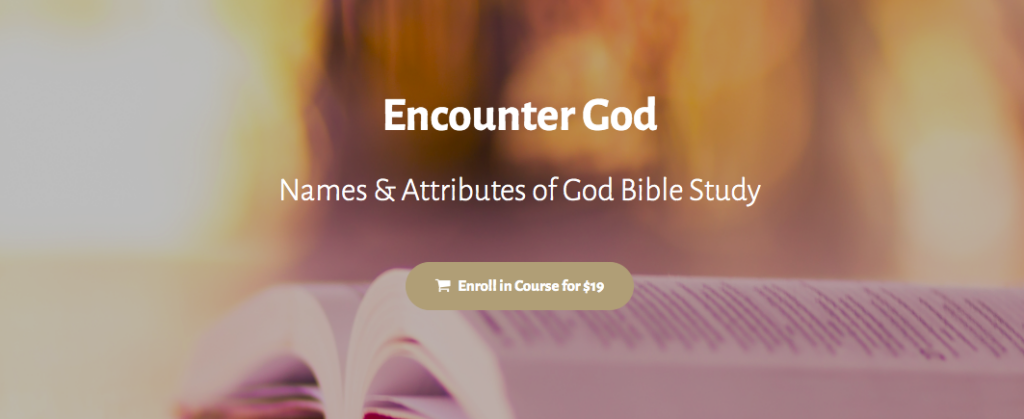 Get access to weekly teaching videos and bonus resources.