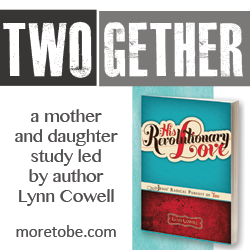 There is nothing I love more than the afterglow of camp or a mission's trip in a girl's eyes. To get away from cell phones, TV, draining friends and Facebook is just what they need! (We do too for that matter!) Yet in the afterglow, I see the pull returning.
I see the tug-of-war in my girl between being the radical Jesus-lover that she is and the girl who doesn't miss what is going on.
The pull was more than a gentle tug last night. Like the whipping of the Tilt-A-Whirl at Six Flags, the velocity at which the world makes it's pull seemed stronger than my girl could take.
I'll be honest — sometimes when the battle rages — my mind, heart and body was not up for the war for my girl's heart. When she's upset, a huge part of me just wants to let her go cry it out. So often it seems like these outbursts are part of the drama of the teen years, yet I know that my girl needs me.
She needs me.
She needs me to loving set the boundaries…again. She needs me to cup her face and explain that the reason for the rules are because she is my greatest treasure. I am going to do all I can to protect that treasure. She needs me to remind her that I am going to fight the enemy on her behalf every day to help her to be victorious.
These talks are not always easy gentle talks.
No…they're crying, snotty nose, wear-me-flat-out, last for hours type of talks.
But my girl is worth it. Though I'm tired, though I would rather join my hubby relaxing in the room next door…she is worth it. And you know, sometimes she actually thanks me at the end. This is the way she wants to go…she just forgets sometimes.
My girl is worth fighting for.
What may start with raised voices and angry tones can end with hugs and tender kisses.
My girl knows I love her. My girl knows that her mama is praying for her to be uncommon though she desperately wants to be both – uncommon and a part of all that is going on.
I am praying, that though the world pulls, tugs and tries to whip my girl around and around the cycle of popularity, position and power, my prayer is that my girl will honor Him.
Are you looking for some help setting boundaries in your home and helping your girl set boundaries in her life? Head over to my site, LynnCowell.com and click on freebies, where you'll find I have a His Revolutionary Love Heart & Body Covenant (PDF) and the Family Purity Code (PDF).
Today's Video
In today's video, I want to help you raise a wiser daughter by teaching her that the best way she can guard her heart is by keeping parts of her heart a secret. When we honor God with our heart, the rest of our lives will fall right in place.
If you can't see this video, click here: http://youtu.be/LoUqhnq3vIc
***

Lynn Cowell is an author and speaker with Proverbs 31 Ministries. She has been married for over 25 years and has a grown son and two daughters in high school. She has written two books His Revolutionary Love and Devotions for a Revolutionary Year. Her favorite things include the mountains, well-worn sweatshirts and anything that combines chocolate and peanut butter. To connect with Lynn, you can find her at LynnCowell.com, Facebook, and Twitter.