I am absolutely convinced that God is all about solutions.
He sees the problem before we do.
He knows the obstacle we're facing.
He understands the fall out, consequences, pain, and challenges.
And, most importnatly, He has a way for us to move through it, over it, around it, and arrive on the other side.
How can I be so sure?
[Tweet "God's solution-minded ways are painted in vibrant colors throughout the canvas of Scripture. "]
Creation . . . God saw what was needed and He created it.
The Fall . . . God gave free will to Adam and Eve, while they botched up the perfection of His creation, He had a plan for redemption already worked out.
The Cross . . . God gave us His one and only son, Jesus, to die on the cross for the forgiveness of our sins, so that we could be in a right relationship with Him and receive the promise of eternity. If that's not a solutions-minded plan, I don't know what is.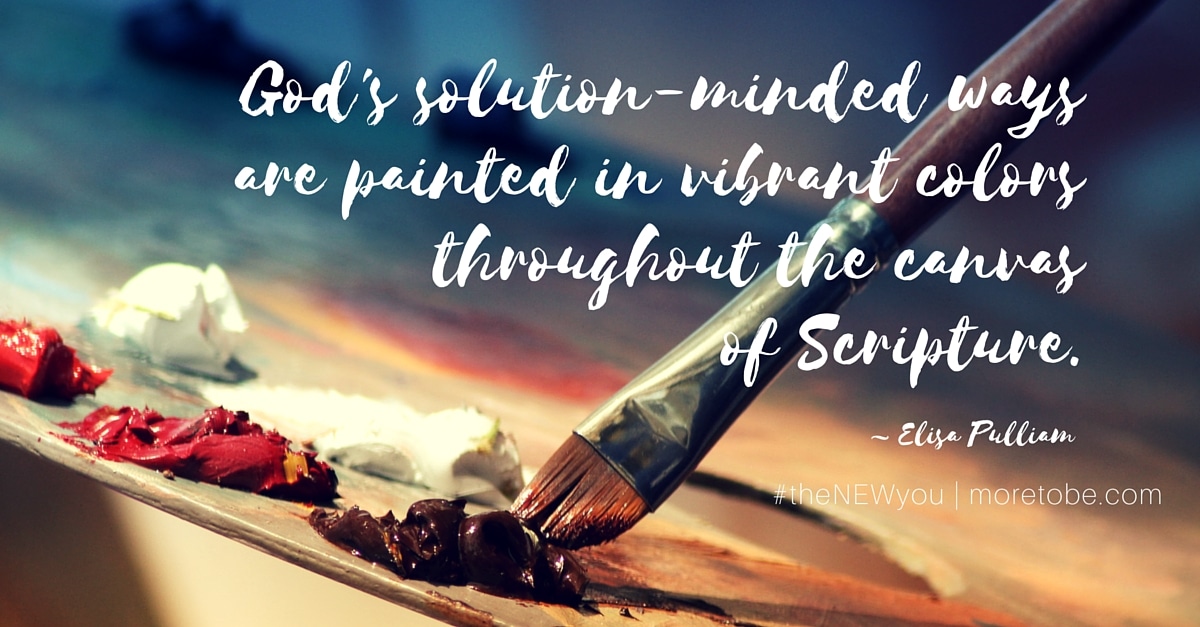 It's not only in the broad strokes of Scripture that we discover God is all about solutions. It's inherent in every character, every challenge, every opposition, every act of Jesus Christ and the disciples and manifestation of the Holy Spirit. I think this is actually my biggest take-away from utilizing my new Bible Reading Plan that I described last week. Whether I'm in Genesis, Isaiah, Psalm, Matthew, or Acts, I see one common-thread:
[Tweet "God has a plan for getting us unstuck. #theNEWyou "]
Let's just take Matthew 15 and the story about the faith of the gentile woman. She's a momma who is stuck. Her daughter is possessed by a demon and nothing, just nothing has worked to set her free. Oh my, does that hit too close to home — not necessarily the possessed part, but being a momma who feels stuck with a heavy burden for her daughter . . . or maybe son?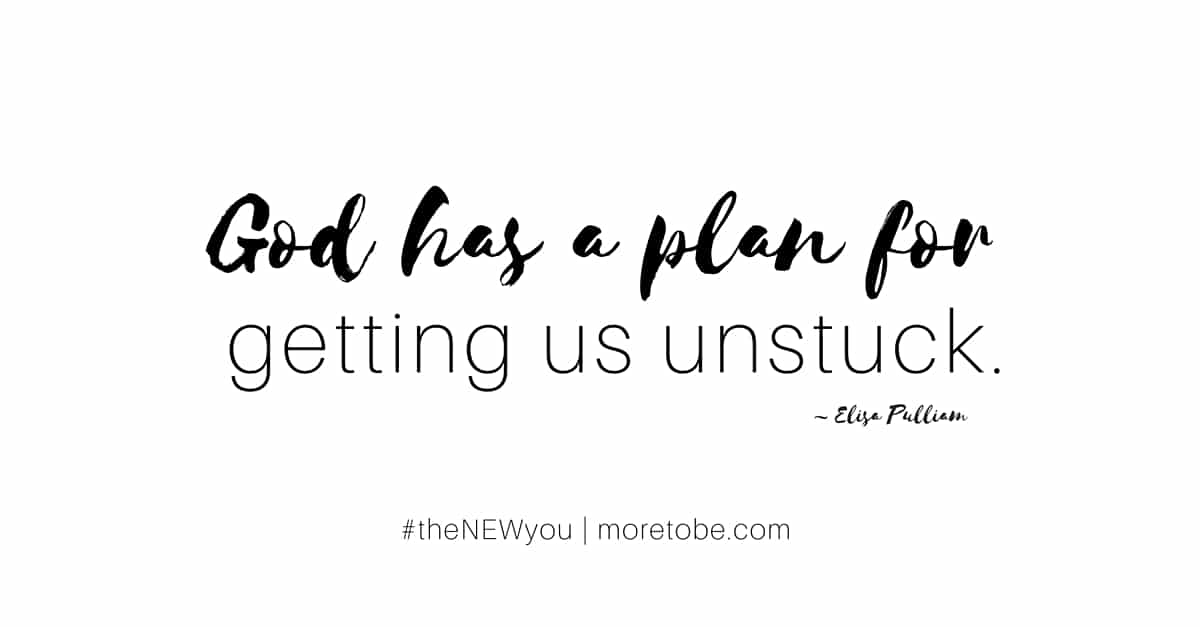 I actually hate the next two verses that describe how she was received:
Jesus gave no reply. 
The disciples urged Jesus to send her away because she is bothering them with her begging.
Oy vey. Is that really in Scripture? It not only sounds AWFUL, it must have been AWFUL to be this momma, already burdened and at her wits ends. Honestly, if I were her, I would probably have punched the disciples . . . and dare I say, maybe Jesus . . . cursed out the whole bunch, and ran away sobbing before collapsing in a deeper heap of shame and guilt and heaviness all over. I know that's not graceful nor a right behavior, but let's be real.
It doesn't get any better in the next verse, when Jesus explains that He was sent to help God's lost sheep — the people of Israel. As Gentile, she doesn't fit into that category. Really? Is this actually true? It's in Scripture, my friend, and if we walk away now, we'll miss the hope yet to come.
[Tweet " This broken momma doesn't stop pressing towards Jesus."]
She won't take no for answer. Maybe that's because she's strong and fierce — and that's how God made her.
She went straight to Jesus, again, and worshipped Him. She wasn't worshipping her daughter, mind you. She worshipped Jesus, as she pleaded with Him AGAIN.
Lord, help me.
He responded with another comment that is terribly difficult to interpret: "It isn't right to take food form the children and throw it to the dogs." What on earth? She wants Jesus to heal her daughter, and He responds with a statement that implies that the Israelites are precious like children and she — not only a Gentile, but worse yet, a Canaanite — is like a dog. Gasp! Did he really just say THAT?  And why? Well, there are plenty of ways to interpret this Scripture passage, especially out of context. However, consider this compelling insight:
Did Jesus humiliate this woman by speaking to her about "dogs"? . . .  I would contend that we must be humbled if we are to come to God for mercy. We must see ourselves as unworthy sinners, undeserving of God's blessings, and thus we are cast upon His grace, not our merits. What Jesus says to this woman is what the gospel says to every sinner: "You are not worthy to be in God's presence. Confess that you are a sinner, worthy only of His eternal wrath, and call upon Him for mercy and grace." The gospel is not meant to flatter us, but to save us from our sins and the penalty of eternal wrath. The things our Lord said (and didn't say) to this woman resulted in one of the greatest declarations of faith in the New Testament. Why, then, do we seek to second guess our Lord in His dealings with this Canaanite woman? ~ From Bible.org
The story is not done, although it could have been. Broken momma could have run away bitter and resentful. Instead, she reasoned with Jesus, and quite well at that.
She replied, "That's true, Lord, but even dogs are allows to eat the scraps that fall beneath their masters' table." (Matthew 15:27)
What could Jesus say in return? Well, it's not what He said, it's what He did:
"Dear woman," Jesus said to her, "your faith is great. Your request is granted." And her daughter was instantly healed. (Matthew 15:28)
She was broken, but fierce. She was beneath the societal standard, but not ashamed to approach the God of the Universe. She understood her need for a Healing Savior, and humbled herself before Him. All because she loved her daughter deeply. What an example this Gentle women sets for us, wouldn't you say? Yet, what do we do with the fact that it was her faith that led to her getting what she wanted for her beloved daughter? Is that faith measured by the actions leading up to it? If we can muster up faith like hers, will God answer our pleas too? And, does it mean our unanswered requests are a result of little faith?
These are tough questions that I don't have the answers to. But I know this — if we try to put a formula on faith, we've missed the point. It can't become about a receiving a desired outcome.
[Tweet "Our faith has to be grounded in the relationship we have with God as we bow and worship Him."]
God knows our need. He knows our hearts. He knows the plan. He knows the outcome of our requests. Because He's solutions-minded. 
His solution may not look like the one we're after. But one thing we know for sure is that we are free to go to God with the problems we have, in the ways we are stuck, and fiercely pursue Him for solutions in every area of our lives.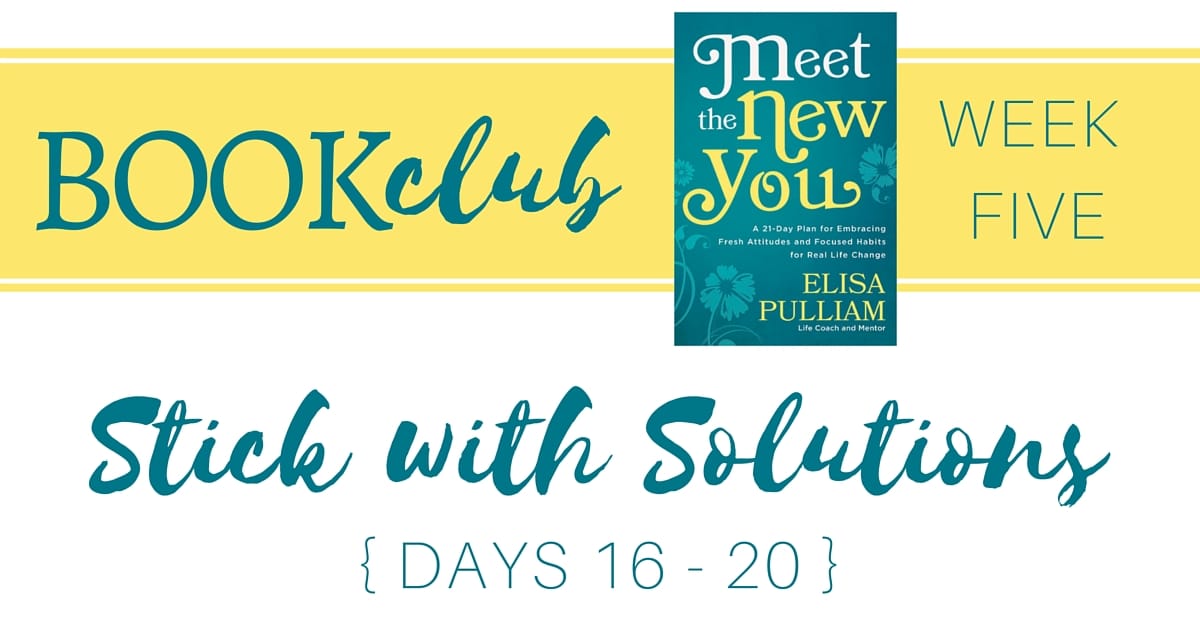 Stick with Solutions
Congratulations on making it this far through the journey, friends. I know Phase 3 wasn't easy. It was heart work, head work, and soul work all in the course of five days! But can you see the fruit of it already? Do you feel the freedom of being set free from false thinking and the strongholds of comparison, unforgiveness, and idolatry?
Now it's time to continue that freedom journey with even more solutions as you look again at your schedule, expectations, and priorities in light of all you've discovered about yourself and choose to embrace a new way of thinking. In Day 16, you'll focus on making time with the Lord and in His Word your starting point, followed by considering what it means to live for an audience of One. Then you'll have a chance to consider ways to make room for margin space and look at how to eliminate the excess of "stuff" in your life while concentrating on what's most important. And finally, you'll wrap up with a beautiful example of mentoring relationship and how listening well is a gift we all need to receive.
These solutions are key in setting a foundation for the transformation work God is eager to accomplish in you. I'm praying for you to be able to embrace them with a willing heart and eager mind.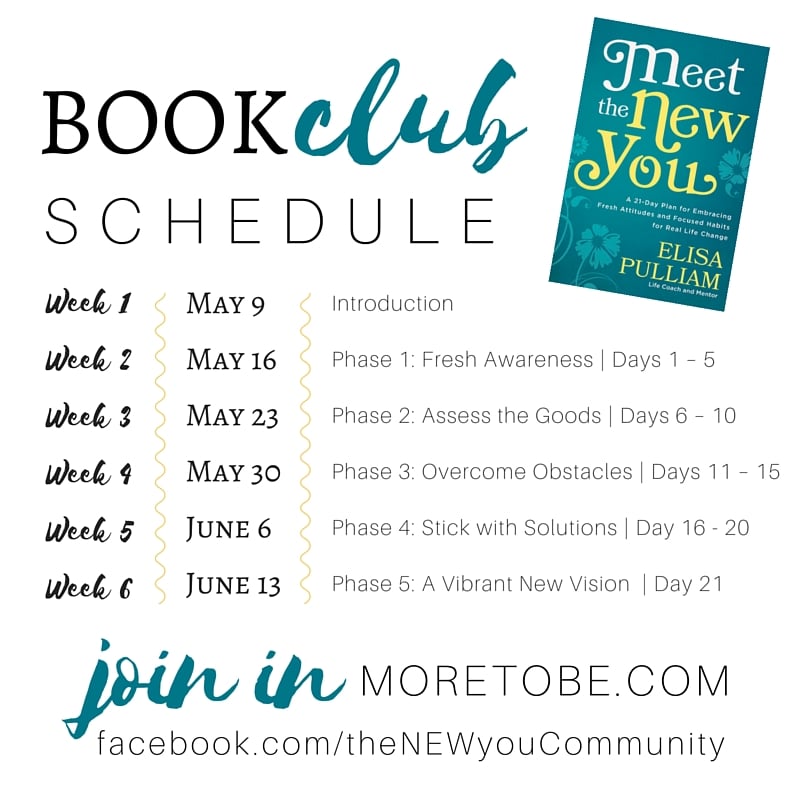 Read & Apply
As you go deeper into Meet the New You,  pick the track that works for you in this season of life.
Track 1:  All In, All the Way
Read Days 16 -20 and answer the reflection questions.
Trap & Transform Exercises
Day 16:  Make a plan for how to embrace a Starting Point with God.
Day 17:  Prepare your "no" script.
Day 18:  Create a schedule with "Margin Space."
Day 19:  Schedule a time for "Eliminating and Concentrating."
Day 20: Consider the next steps in finding a mentor and becoming one.
Track 2:  Just the Basics
Read Days 16 -20, answer the Go Deeper questions, and complete the Trap & Transform exercises listed below.
Trap & Transform Exercises
After complete the reading for the week, choose one or two Trap & Transform exercises that you feel are most pressing in your journey of life change.
Track 3: Skimming this Time
Read Days 16 -20, but skip the Go Deeper Questions and Trap & Transform exercises. 
Discussion Questions
Jump into the discussion in#theNEWyou Community Facebook or leave a comment below with your thoughts! We'd love to hear from you.
Would you say that God is on your "to-do" list? If so, what will it take to start having a real relationship with Him?"
Have you found yourself struggling with wondering, "What would the church ladies say?" If so, what should you do in the future?
Is it time to surrender to God's pruning? If so, what areas is He leading you to cut back on? Can you imagine the rewards?
Are you hanging on to things for comfort and security when God is calling you to trust Him more?
What would it take for you to engage in heart-deep, life-changing, biblical-mentoring relationships?