Anxiety. It's a word none of us like. It's more than a word. It's an experience that seeks to undermine the full life God promises us (John 10:10), whether we're struggling with anxious feelings or in a full out battle against anxiety.
Anxiety is the silent joy-stealer wrecking the lives of God's children.
Yes, it's a real problem, even for Christians. Anxiety disorders are the most common mental illness in the United States, affecting 40 million adults (source). And women are 60% more likely than men to experience an anxiety disorder over their lifetime (source). But why? Well, we can look at the causes of anxiety to get to the root of the issue, but really, I think the biggest culprit is our fear in admitting a struggle.
Being honest about anxiety leaves the door wide open to commentary and criticism rather than being an invitation for compassion.
Isn't that a double-whammy to an already wounded heart!  It's as though a "less than" label is smacked on your forehead and invites unsolicited advice . . .
Well, you should pray more, says that kind lady from church who doesn't seem to bat an eye at life's trials.
On the one hand, she's right. We should pray. We should seek God. Isn't that what the Scriptures say to do:
Do not be anxious about anything, but in every situation, by prayer and petition, with thanksgiving, present your requests to God.  Philippians 4:6 NIV

And yet, praying and asking God for those "anything" issues may not make the anxiousness go away. Giving thanks doesn't always stop the cycle of worry. Is it because the person isn't praying right? Is it because thanksgiving doesn't work? No, of course not.
God's Word is true and right. It is good for us to heed His teaching and trust that He will calm our anxious thoughts whether we moan, groan, yell, or cry out before Him with the heaviness on our hearts.
God is ever hearing and always faithful. He mercifully looks upon His anxiety-ridden children with compassion. So why does it feel like He simply allows the anxiousness to stick around? What are we supposed to do when digging into the Word and unpacking our hearts in prayer doesn't seem to work in the anxiety battle?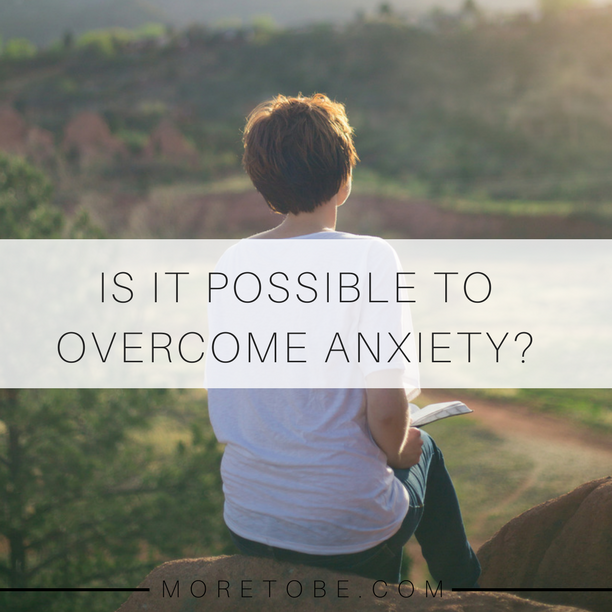 Is it possible to overcome anxiety?
Friend, this is the question I've been pursuing God about for many years. It's an issue I've been forced to face, thanks to a simple little post I once shared on elisapulliam.com, that happened to go viral. I didn't know when I wrote 40 Bible Verses to Calm an Anxious Heart, that anxiety was such a serious problem, I was simply sharing from a time in which I was deeply struggling with trusting God in the face of decisions and challenges.
I was anxious. Plain and simple. But real, paralyzing anxiety is more than that.
It's a battle that 4 of 10 of our brothers and sisters are battling every day. No wonder that almost daily receive an email from someone struggling with anxiety, hoping that I'll have an answer, a solution, a way out. Can I admit that I feel so ill-prepared and unqualified, friends? What do I know about anxiety?  I know more about a bazillion other things than I do about this pervasive issue facing too many men and women.
Yet, in my unknowing, I know that God knows. He has the answer for us and we need to pursue Him for it That's why I've been asking God about this matter of anxiety. In all my praying and reading and thinking, I've come to this conclusion:
Maybe the way to overcome anxiety isn't through following a formula but rather moving in a position of humility and surrender? Maybe the solution rests in admitting the problem in the first place?
We were never meant to go through this life journey alone. Yes, God is all-sufficient in meeting all our needs, but in His all-sufficient plan, He made His people to serve each other. As a friend and prayer warrior. As a pastor or a biblical counselor. As a doctor trained in administering medicine designed to control anxiety because that step could possibly set the stage for hearing from God clearly. Yes, my friend, I do believe that God will use medicine for those suffering from anxiety, and that doesn't make the person who needs it any less spirit-filled. Sometimes, we just have to ask for help.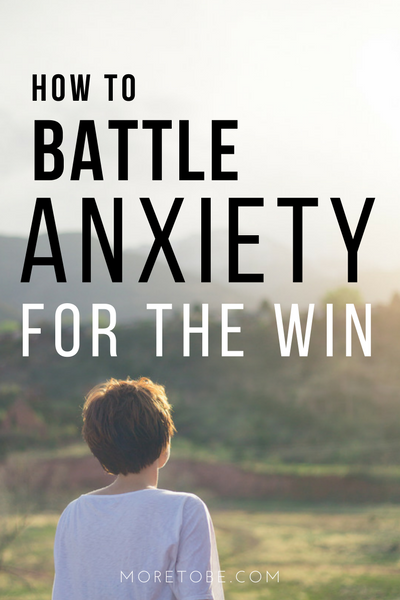 How to Battle Anxiety for the Win
Anxiety might be part of your story up to this point, and might always be your battle, but it doesn't have to be a road you walk alone or defeated anymore. There are many steps you can take to experience relief, support, and Lord willing, healing. This isn't script, but rather opportunities worth considering:
1. See a Professional
Start with your doctor and consider contacting a counselor in your area to get a baseline assessment. Your anxiety may be circumstantial or clinical, so make sure you're facing it with the necessary wisdom and knowledge to overcome it. Focus on the Family provides recommendations for counselors in your area.
2. Get Support from Friends and Family
You don't need to go through this alone. Tell a trustworthy friend or family member about your struggle. Ask for them to pray for you, listen to, check in on you. Ask for input and suggestions based on how they see you living life, and be willing to heed their wisdom. Especially be willing to ask for prayer!
3. Don't Give Up on Praying
God is listening to you, even if you feel like He doesn't hear from you. Make time daily to pour out your heart to the Lord. Explore journaling, too. And be willing to sit quietly and listen for God to speak to you. Confirm what you hear with the Scriptures or seek the input of a godly friend or pastor.
4. Immerse Yourself in Truth
Take the time to read the Bible and work on memorizing Scripture truths that can bring you peace and transform your thoughts. The battlefield is in your mind. God promises us that He will transform our lives through changing the way we think, which is why it is so critical to be aware of your thoughts and make sure they line up with the truth (Romans 12:2, 2 Corinthians 10:5). I've studied this biblical principle and put it into practice in my own life long before writing Meet the New You, so I know it works. But first, you might need the help of a counselor to get to the place of speaking truth to your soul.
5. Get Rid of the Junk
What goes into your mind is going to affect how you feel. Take inventory of everything you're reading, watching, and listening to on a daily basis, to see if any of it is leading to your anxious feelings. Put a ban on it and see what happens.
6. Change Your Pace
Is your anxiety a result of doing to much? Is the stress on you demanding more than you can handle? Carve out daily and weekly times for rest, choosing to sleep or pursue leisure activities to see if the anxiety lessens.
7. Plan What You Can
Are you anxious over all that you feel you must do? Or do you feel anxious over not being able to plan what's next? In either regard, get yourself a planner and make priority decisions about what can fit into your schedule and what needs to be put on hold.
If anxiety is your battle, please know you're not alone. And please, friend, you don't have to keep silent about any longer.
It's wise to get help. It's wise to seek healing from the Lord and support from His body. May you not walk this road alone, but find the spiritual and emotional wholeness you crave as you take next brave step forward.
The information presented here is not meant to replace the care of a doctor. Please seek professional help. For more information on anxiety and related disorders, visit the Association of Anxiety and Depression Association.
Additional Help
To find hope and help when fighting against anxiety, consider these resources:
This post was originally published at elisapulliam.com.