What is your definition of healthy leadership as a woman in ministry?
Have you ever felt like the health of your leadership role is impacted by the health of your marriage?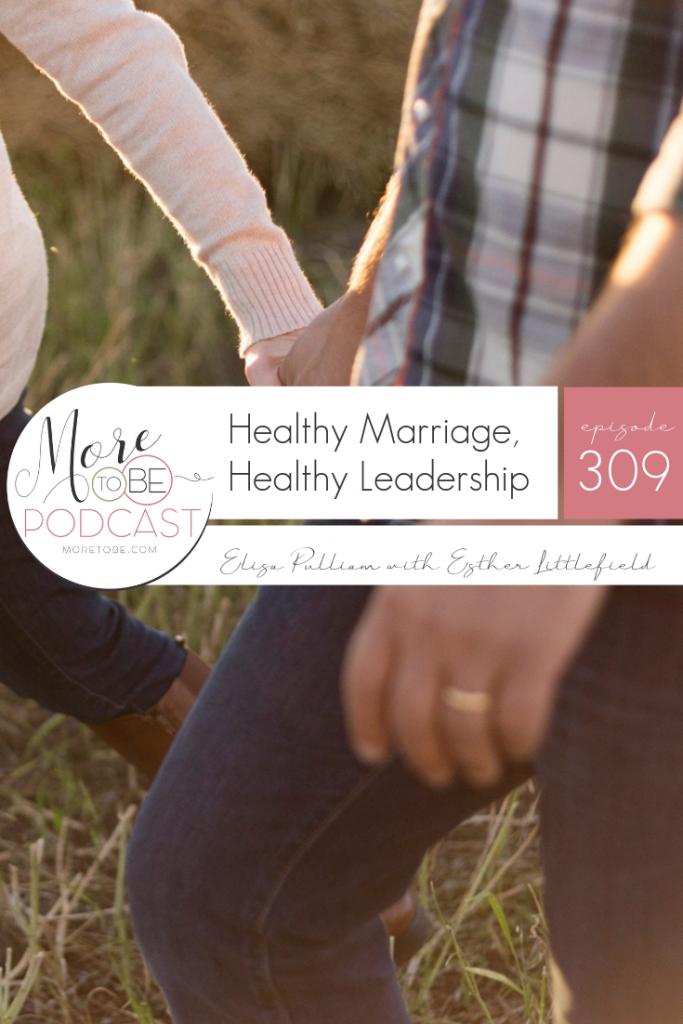 You might be wondering what leadership and marriage have to do with the focus of our ministry at More to Be, and that is completely understandable. While we know that everyone in our tribe is not in leadership role nor married, a good bit of y'all come our way looking for resources to share with the ministries you lead while also seeking out spiritual nourishment and biblical encouragement for yourself.
So on this episode of the More to Be Podcast, I invited my good friend, Esther Littlefield to share her story and passion for Christian women in leadership and healthy Christian marriages with us. As a pastor's wife and ministry leader, Esther knows the pressure quite well. Her own experiences inspired her creation of a marriage course at EstherLittlefield.com as well as the creation of the Christian Woman Leadership Podcast.
While we kick off the episode talking about our mastermind group (suggestions below for starting your own), we quickly transition into the story of Esther's life and faith. Our conversation naturally flows into the tension found between being a natural leader and cultivating a healthy marriage. Esther's wisdom, as well as insights into Scripture, will surely bless you. No matter where you are in your life today, you'll be encouraged to press on in the hope of Christ and see God use your gifts and talents according to His purposes.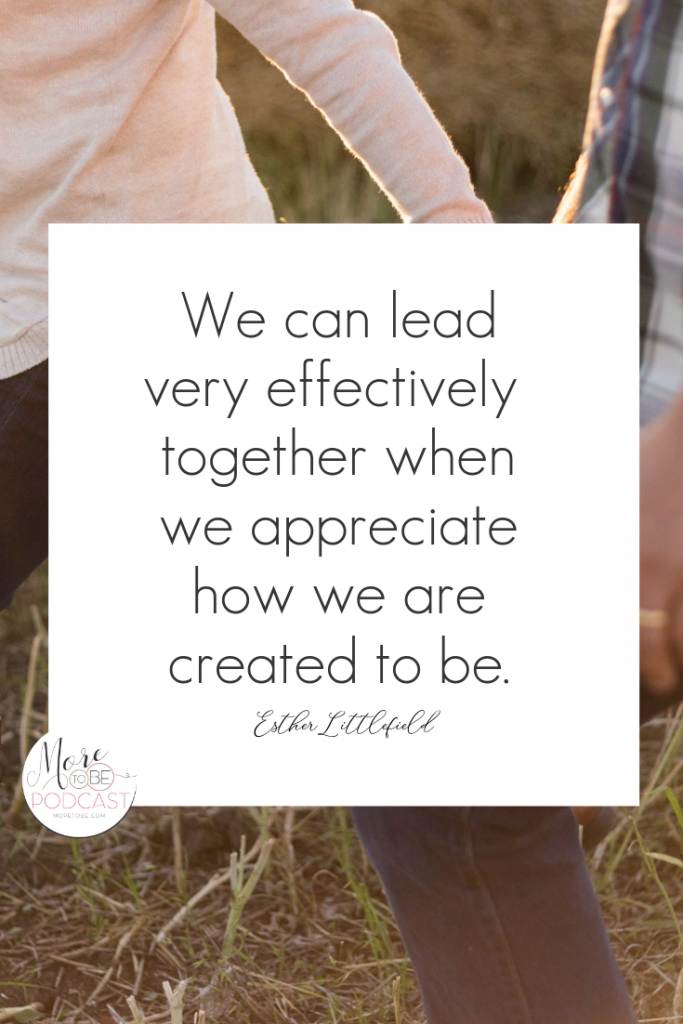 I was expecting my husband to fill a need only God was designed to meet. – Esther
I'm passionate about supporting marriages of women in ministry and leadership. – Esther
We're not going to be able to be productive if we don't bring this to Jesus first. – Elisa
When you're in ministry, there's often no one to turn to. – Esther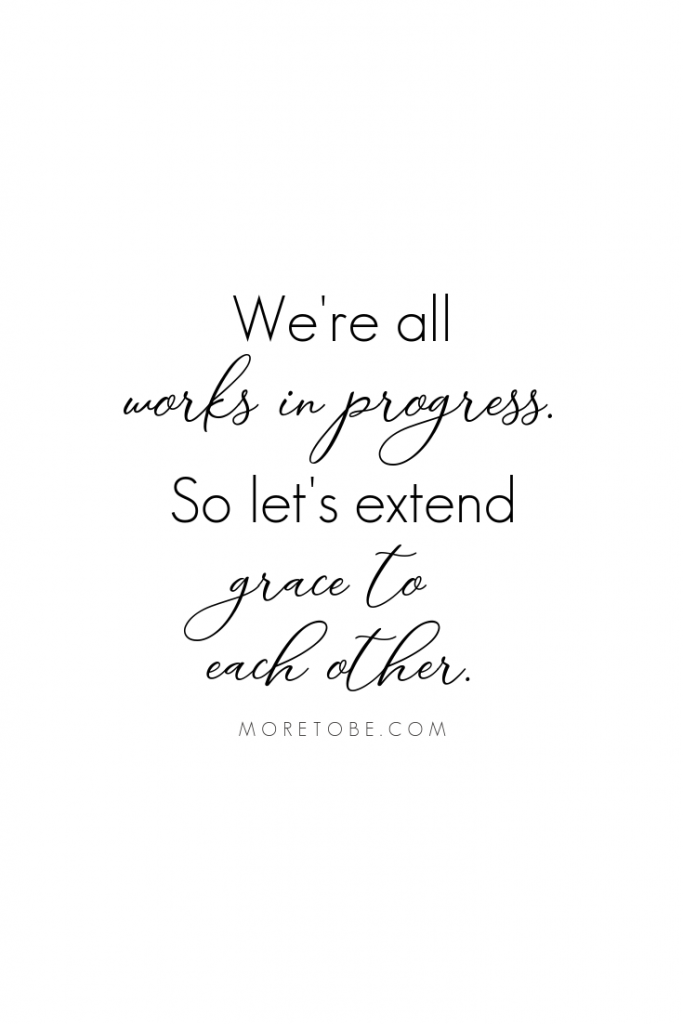 The very essence of what makes us strong leaders as women is the very thing that makes the dynamics in marriage hard! – Elisa
We can lead very effectively together when we appreciate how we are created to be. – Esther
If you have a difficult relationship with your spouse or children, it will be difficult to lead well. – Esther
We're all works in progress. So let's extend grace to each other. – Elisa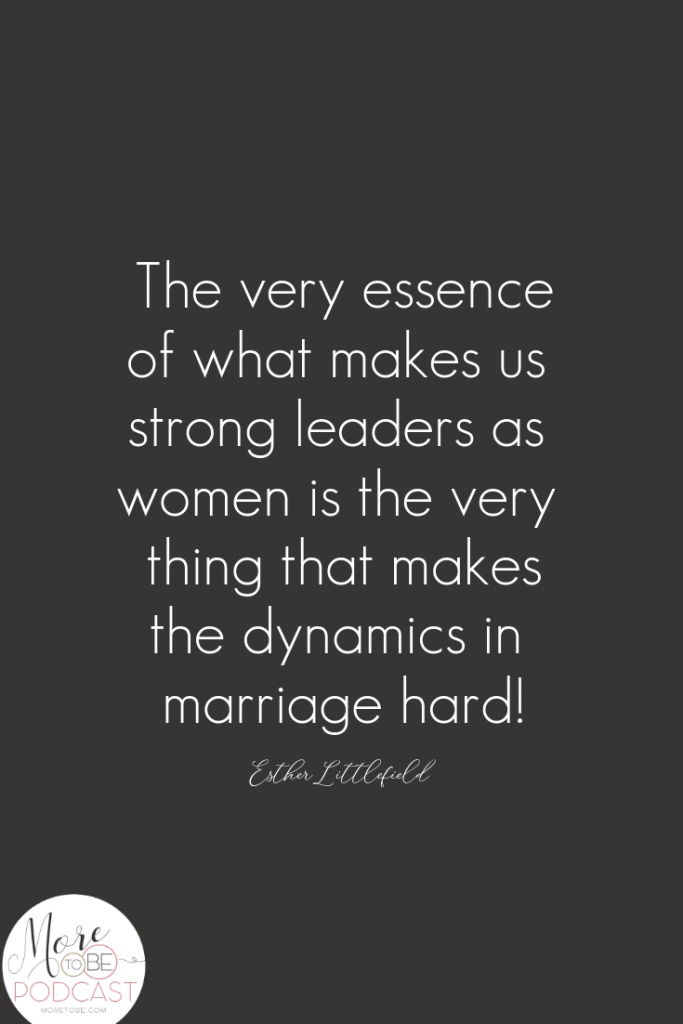 Scripture Focus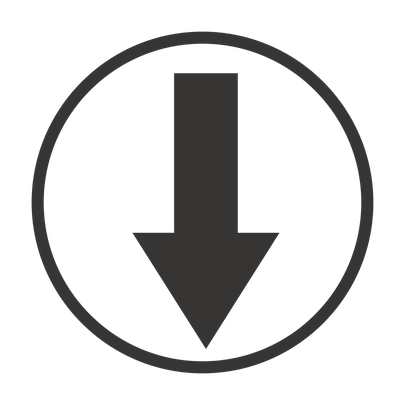 Notable Links & Mentions


Share & Bless
Listen on iTunes, Stitcher, and Spotify
If you've been blessed by this podcast, then hope you'll show your support by share it with your friends and family! We would also be so grateful for you to rate and review our podcast wherever you listen.

Show Your Support by Joining the Sisterhood Circle
We invite you to become a More to Be Sisterhood Circle Member as a way of supporting this podcast. With your membership support, you'll gain access to our signature courses and resources for FREE plus receive advance notification of new resources, trainings, and special sales.
To get access to over $100 worth of bonuses, become a Sisterhood Circle Member by clicking here and upon check-out, enter coupon code "Podcast" to save an additional $20!