What is kindness? Is it something we do? Something we feel?
How do we extend authentic kindness to others? And to ourselves?
In this episode of the More to Be Podcast, I'm joined by long-term friend and mentor, Lucinda Secrest McDowell, for a chat over coffee (from a virtual distance, of course) to discuss kindness, passing on wisdom, and her latest book, Soul Strong: 7 Keys to a Vibrant Life.
We chat about the seven core principles in her book, which Lucinda has learned throughout her life, and the advice she wished she had known earlier on.
If you want to sit under some Godly teaching and wisdom and learn more about extending kindness to yourself and to others, then this podcast episode is for you.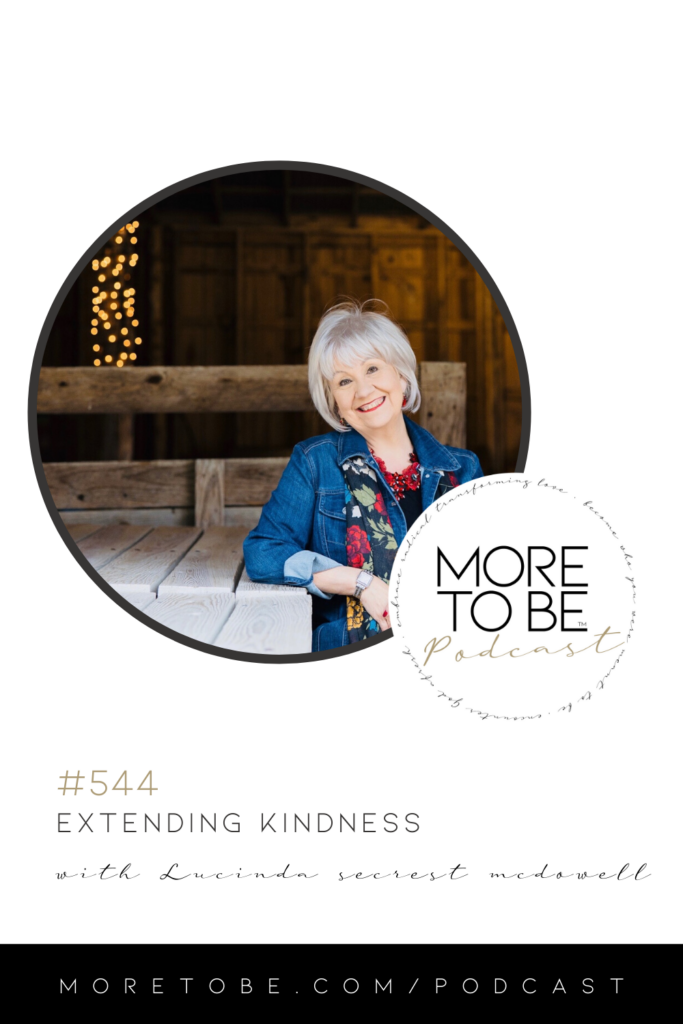 Lucinda Secrest McDowell is passionate about embracing life — both through deep soul care from drawing closer to God, as well as living courageously in order to touch a needy world. A storyteller who engages both heart and mind, she is passionate about "Helping You Choose a Life of Serenity & Strength." A graduate of Gordon-Conwell Theological Seminary and Furman University, Lucinda is the award-winning author of 15 books, including Life-Giving Choices, Soul Strong, Ordinary Graces, Dwelling Places, Live These Words, and Refresh! Whether co-directing the "reNEW – retreat for New England Writing and Speaking" mentoring young moms, or leading a restorative day of prayer, she is energized by investing in people of all ages. Connect with Lucinda at LucindaSecrestMcDowell.com.
If you've been blessed by this podcast, we hope you'll show your support by sharing it with your friends and family as well as take a moment to rate and review it in your listening app.

Highlights
"Live loved. Be authentic. Dwell deeply. Pray always. Overcome pain. Extend kindness. Share Stories." – Lucinda
"How do we become that kind of person who is a person of grace and mercy and compassion?" – Lucinda
"Kindness is an external action, but it is a manifestation of an internal state." – Lisa
"When we are unkind, we have to ask ourselves, "what is going on inside of me?"" – Lisa
"There is this tension between the kindness we know ought to come out of us, and the feelings we actually have inside of us." – Lisa
"Are you extending kindness to the people in your home? Are you being kind to yourself?" – Lucinda
"If our vision is on "what is Christ's vision for me?" then from that place of "what is Christ's example for me?" what we are asking people to do in that mentoring context is really to look to Jesus." – Lisa
1 Peter 3:8-9 – Finally, all of you should be of one mind. Sympathize with each other. Love each other as brothers and sisters. Be tenderhearted, and keep a humble attitude. Don't repay evil for evil. Don't retaliate with insults when people insult you. Instead, pay them back with a blessing. That is what God has called you to do, and he will grant you his blessing.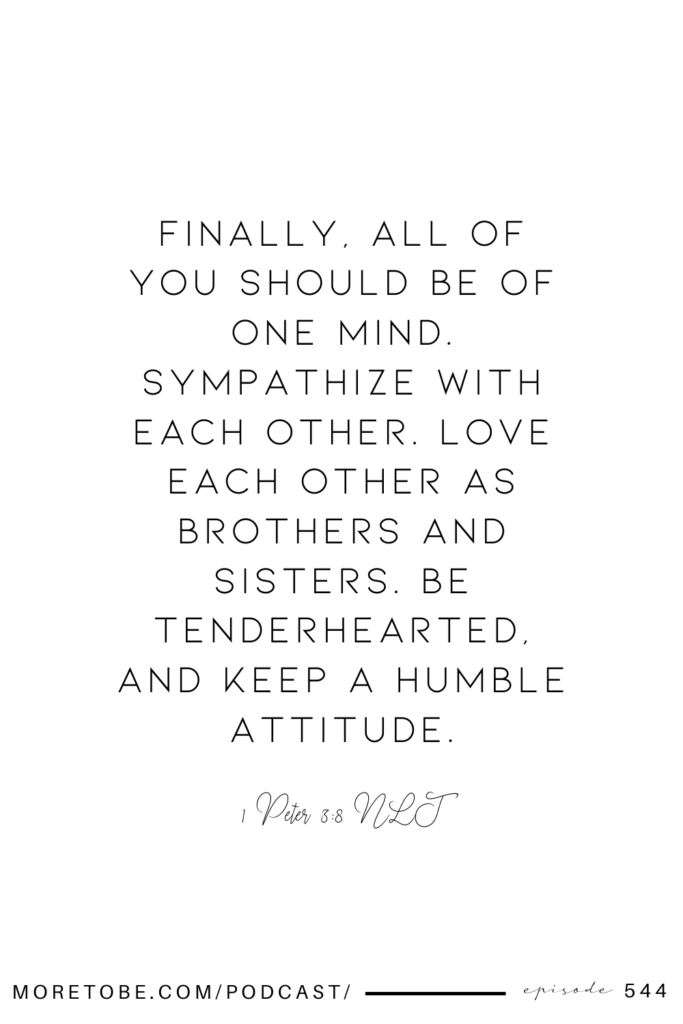 2 Peter 1:5-7 In view of all this, make every effort to respond to God's promises. Supplement your faith with a generous provision of moral excellence, and moral excellence with knowledge, and knowledge with self-control, and self-control with patient endurance, and patient endurance with godliness, and godliness with brotherly affection, and brotherly affection with love for everyone.

Mentions | Links | Resources

Support the More to Be Podcast
If you are blessed by our podcast and ministry, we invite you to become a Sisterhood Member as a way of supporting our work. You'll gain access to our digital library full of resources that will help you have a fresh encounter with God and His Word.